In an effort to overcome and revolutionize the problem of having to oversize actuation components for applications that have a rapid stroke at low force with a load stroke at high force–cutting-edge motion control/actuation specialists Kyntronics (Cleveland, OH) have developed their patent-pending HSHF (High Speed/High Force) Single Cylinder All-In-One Actuator.
Combining key technologies from their servo-based SMART Hydraulic Actuator (SHA), coupled with a high- speed actuator and a high-force pair of actuators–the HSHF Single Cylinder Actuator delivers an industry changing, cost effective solution in a scaleable, modular, 'power-on-demand' machine platform. The design is self-contained with no hoses–eliminating the expensive, inefficient, and leaky hydraulic system infrastructure.
A 'Next Generation' version of their original HSHF Dual Cylinder system–it employs a High Speed (HS) cylinder which can vary depending on desired speeds and tool weights. The new single High Force (HF) cylinder simplifies the design. Utilizing a patent pending solution, the system leverages valves to control the pump flow to either the HS or HF cylinder. The motion program is capable of accurately controlling position, force, and speed in all four quadrants throughout any position in the HF cylinder–giving a significant amount of flexibility to the user.
Unlike anything else on the market, the inspiration for Kyntronics evolution from the dual, to the single cylinder system design was to provide end-users with a simpler circuit with four quadrant motion control that delivers more flexibility on the stroke. The key to the patent-pending system, is the fusion of four quadrant motion control to accurately control position or force–providing a whole system approach in melding the HSHF together. Furthermore, by leveraging a standard piston vs. a dual piston, it can do force control anywhere in the HF cylinder.
Notably, the previous dual cylinder design is more complicated, as a seal must engage in the HF cylinder. The single cylinder design doesn't have this requirement–therefore eliminating this step. This means less slow down, as the system simply engages into the high-force mode with continuous motion. This provides a solution for a wider range of applications.
Ultimately, the unique single cylinder system configuation delivers a myriad of advanced operational benefits, resulting in lower operating costs, higher precision, and better overall performance.
Key Kyntronics HSHF Single Cylinder Actuator Performance / Specs:
HS & HF Zone
HS cylinder: 1in to 2.5 in
Single HF cylinder: HF zone (HF cylinder) / 3.25 to 6 in cyl ID
Standard Piston
Four quadrant motion control
Servo Drive with Integral Motion Control.
High Load: >85 tons <2 sec.
Load Stroke / High Force Actuation Cylinders Up to 170,000 Lbf (756kN) of force.
High Speed / Rapid Stroke Actuation Cylinder:
Up to 45.6 in/sec (115.9 cm/sec) with up to 4,081 Lbs. (18.2 kN) of force
Key Kyntronics HSHF Single Cylinder Actuator Innovation / Design Benefits:
A true, 'all-in-one' solution (controller and programming included), the HSHF's single cylinder drop-in design features a variable displacement pump, servo motor, servo drive/motion controller, and closed-loop position and force control, with precision position and pressure sensors.
This revolutionary simple design eliminates oversized alternative methods and solves a lot of issues associated with current options (no hoses, quieter operation, more connectivity, etc.) in a very cost effective, reliable small package–representing upwards of 50% savings in equipment and operating costs.
The reduced space and machine footprint is significant, as it eliminates the hydraulic infrastructure and all oversized elements–
providing significant cost savings. Because it only uses power-on-demand, energy savings are built-in. Since there is no huge cylinder or large pump waiting for the cycle to start, the HSHF uses minimal energy for the long stroke and proportional energy for the load stroke.
Ease-of-integration with machine control systems and versatile control is also an inherent benefit, as the HSHF Actuator is compatible with Fieldbus, I/O (selectable indexes), and Analog (0-10vdc or 4-20ma).
Solving the Traditional Clamp & Press Mode Dilemma:
Traditional clamping and pressing actuation applications present the challenge of having a rapid stroke at a low force, while requiring a steep ramp-up to a high force for a short period. The inherent nature of achieving these demanding performance parameters typically means expensive oversizing of the hydraulic infrastructure to provide the high speed and high force necessary.
Within this large machine footprint, delivering the requisite position and force control goals present complex motion and expense variables. In addition to having too many components in the solution, other unfavorable factors include: oversized and continuously running hydraulic power units, large hoses with many connection points that often leak and require maintenance, and the energy consuming frequency of stopping/starting with valves repeatedly turning on/off, while transitioning from high speed (low force) to lower speed (high force). In addition, precision control of position, speed and force is also expensive and challenging.
Kyntronics' uniquely configured HSHF Single Cylinder system delivers accurate force control for both clamping and pressing applications with optimal performance. This next generation of actuation provides reliable, rapid movement with high force clamping, and reliable movement with a high force press (small distance)–at a low cost, with no hoses, in a small envelope. Made in the USA, this new actuation technology is a leap in modularity, and takes advantage of Kyntronics SMART hydraulic actuation technology to overcome inherent issues with existing clamping and pressing technologies.
Ultimately, the HSHF Actuator design delivers rapid controlled clamping mode and seamless pressing mode in transitioning from HS-to-HF cylinders–with accurate force and position control.
During a pressing mode, maximum power is required for a short period of the cycle (slower speed with high force)–minimizing the motor and drive size along with the overall heat. During a clamp mode, minimum power is required to rapidly move the cylinder (extend/retract). During the clamping, zero power is required as the check valves in the HF cylinder lock the actuator in position, and the HS cylinder is placed in float mode to prevent cylinder damage.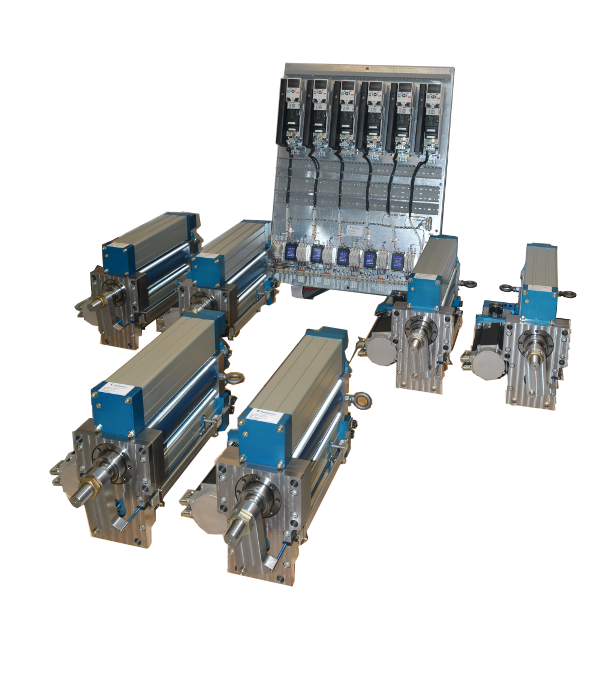 Noting the product's ease-of-application as a competitive and advanced alternative for the clamping and pressing application marketplace, Carl Richter, Kyntronics VP/General Manager, said, "We strive to provide our customers and channel partners with unique solutions like the HSHF that are ahead of the curve. Our nimble, responsive team of in-house engineers thrive on 'solving the unsolvable' actuation application problem. The HSHF Single Cylinder system is revolutionary as its modularity, power-on-demand, and multi-cylinder capabilities save time, energy, and money for OEMs and end-users across the board."
Kyntronics HSHF Single Cylinder Concept / Conclusion:
The HSHF Single Cylinder Actuator's patent-pending concept incorporates a new approach to the established hydraulic cylinder design, by mechanically connecting a high-speed cylinder to a larger high-force cylinder incorporated into an innovatively designed system (patent pending).
Integrating the Kyntronics standard servo solution, the high-speed cylinder/piston (e.g. a 1in cylinder) accurately pulls a larger cylinder/piston (e.g. a 6in cylinder) to the desired position or force without slowing down or stopping during the movement. Incorporating a unique controls scheme allows the system to provide high force anywhere in the cylinder stroke at any time without sacrificing speed, control, or cycle time.
A leap in electro-hydraulic technology and modularity, Kyntronics' HSHF Single Cylinder Actuator will benefit a myriad of unique applications that require a rapid stroke at a small load, combined with a short stroke with high load in a small period of time. The all-in-one operation delivers an optimal servo-controlled, closed loop- controlled force, as well as a closed loop-controlled position solution.
Key vertical market industries that will benefit include: Automotive, Aerospace, Metal Fabrication, Packaging, and Plastics. A broad scope of unique applications will also benefit including: Metal Forming and Pressing, Injection Molding, Blow Molding, Toggle/Platen Clamping, Injection Carriage Actuation, Trim Press Actuation, and Thermoforming Platen Actuation.
According to Kyntronics' President, Wayne Foley, "The HSHF Single Cylinder Actuator is a production and quality enhancing product that provides cycle time reduction, improved process repeatability, and lower equipment and operating costs than current alternative hydraulic and electromechanical options. Accurate position, force, and speed control move quickly under the low load, then the balance of the cycle (5-10%) retracts/repeats quickly like nothing else on the market. Ultimately, as we are currently quoting and will be aggressively launching in the 4th Q of 2019, both OEMs and end-users together will benefit from this game- changing, single cylinder actuation evolution."
Kyntronics is leading the way for advanced actuation for wide-ranging applications and markets including: Special machines, Automotive, Aerospace, Medical Equipment, Metal bending/forming, Defense, Material Handling, Testing Stands, Steel Mills, Lift Tables, and many others. All Kyntronics products are made in the USA, competitively priced, and comprehensively backed by a customer service support system that is unparalleled in the industry.
Don't miss our LIVE DEMONSTRATIONS AT FABTECH 2019: Booth D45249 (Lakeside Center)
About Kyntronics
Since 2010, Kyntronics has emerged as a leader in 'new technology' motion control and actuation product development. The ISO 9001, AS9100D certified company is rooted in providing leading-edge, customer-centric, and differentiating actuation solutions for a myriad of today's small-to-large OEMs. Made in the USA, Kyntronics' actuation products drive efficiencies for applications across the industrial spectrum– from drop-in replacement actuators for existing applications, to custom engineered actuators and complete motion control systems. With vast experience in industrial, aerospace, and medical industries, our in-house team of mechanical, hydraulic, electronic, and software engineers combine to provide hundreds of years of engineering acumen.
Author
Carl Richter | VP; General Manager Kyntronics
P: (440) 220-5990