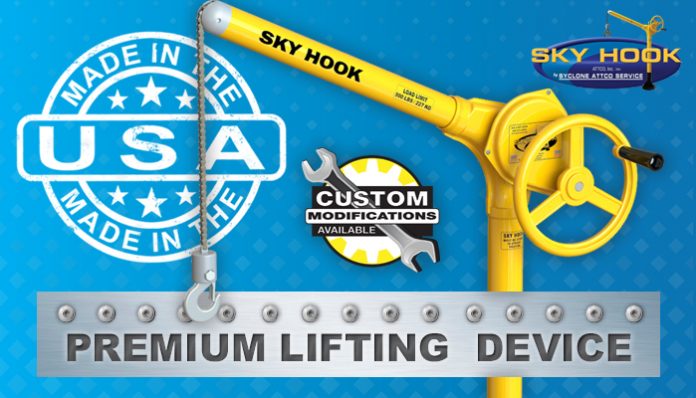 ATTCO is the leader in providing ergonomic, industrial and safe lifting devices to companies around the world. Offering you a cost effective solution to all of your safe lifting requirements, our "Sky Hook" ergonomic equipment helps prevent serious back injuries and lowers your financial burden. In addition, a Sky Hook lifting device will start saving you money the first day it's on the job. Your employees and customers will love how easily it lifts machine parts and all other heavy items. For over 40 years, USA-made Sky Hook Industrial Lifting Devices have been serving a wide variety of industries.
Cost Effective Portable Lifting Devices
Cost effective and more flexible than a forklift, overhead crane, or chain hoist, ATTCO's ergonomic, industrial and safe lifting devices can lift a 500-pound load on to or off a machine with ease. This method of ergonomic lifting reduces workplace injuries and makes your operation more efficient. If it typically takes four employees 15 minutes each to help someone else move a heavy load, production suffers. Not so when you use a Sky Hook.
A Sky Hook Industrial Lifting Device:
Lifts up to 500 lbs.
Performs the work of four people
Is portable and lightweight
Saves time
Rotates 360° and operates with one hand!
Can be customized to fit your specific application
To Learn more about Sky Hook Industrial Lifting Devices please fill out the form below.
---
ATTCO, Inc. DBA Syclone ATTCO Service
8395 W. Idaho Blvd.
Letha, ID 83636
Phone: (208) 365-5770
Fax: (208) 365-5771
Web: skyhookmfr.com
Email: info@skyhookmfr.com