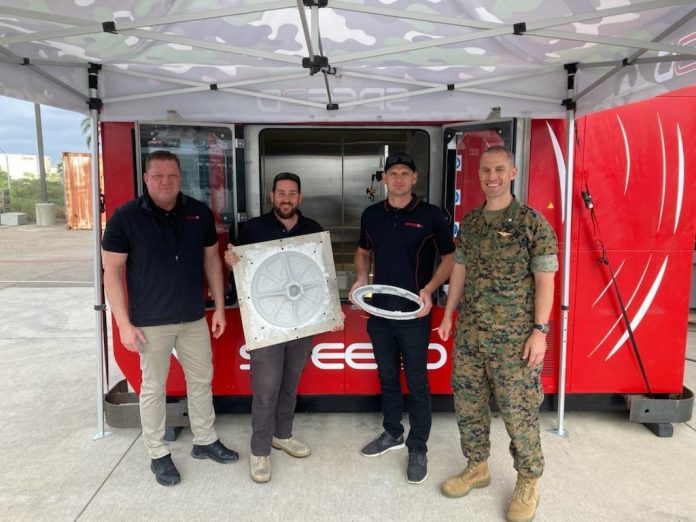 SPEE3D, a leading metal additive manufacturing company, announced its successful participation in the Marine Corps Annual Integrated Training Exercise (ITX) 4-23. The event is a live-fire exercise combining infantry, artillery, aircraft, combat logistics, and all the supporting elements to train battalion and squadron-sized units in the tactical application of combined-arms maneuver and offensive and defensive operations during combat. SPEE3D was the only additive manufacturing company participating in this event.
ITX involved a series of progressive exercises that assessed the ability and adaptability of a force of more than 3,700 Marines and sailors over one month. SPEE3D's WarpSPEE3D was deployed to print crucial parts that were broken, brought from ground support at the Marine Corps Air Station in Miramar, California, and then flown to the live fire Marine Corps Air Ground Combat Center Twentynine Palms, California. SPEE3D has repeatedly proven its expeditionary point-of-need capabilities for defense through its participation in multiple military field trials with the US, UK, and Australian militaries over the last few years.

"Our involvement in ITX 4-23 is yet another testament to our commitment to partnering with the military worldwide to provide the best outcomes for rapidly printing 3D metal parts where they are needed the most—near the warfighter," said Chris Harris, Americas Vice President of Defense for SPEE3D. "It's an honor to be invited, and we look forward to working with the United States Marines Corps for future training events."

Chris Curran, Program Manager for the Consortium for Additive Manufacturing Research and Education (CAMRE), had this to say: "For two consecutive weeks during Integrated Training Exercise 4-23 with the U.S. Marine Corps Forces Reserve, SPEE3D repeatedly demonstrated their ability to 3D print metal replacement parts, outdoors, in an expeditionary environment. What was impactful was their ability to produce parts in a matter of hours – not days – which could potentially offer warfighters and maintainers a competitive advantage in a contested environment."

Military and defense require on-demand technology to quickly produce parts from well-known metal alloys to address real-time needs in-theater, helping maximize availability and minimizing downtime. WarpSPEE3D is the world's first large-format metal 3D printer to use SPEE3D's patented Cold Spray Additive Manufacturing (CSAM) technology, which enables fast, cost-effective, and scalable production. Additionally, SPEE3D offers XSPEE3D, explicitly designed for military use—housing the printer and auxiliary equipment in a portable metal shipping container.
About SPEE3D
SPEE3D is a leading metal additive manufacturing technology company dedicated to the research, development, and delivery of metal 3D printers and integrated systems utilizing its patented Cold Spray Additive Manufacturing (CSAM) technology. As a result, the SPEE3D portfolio enables significantly faster production than traditional metal manufacturing for a wide range of metals, including Aluminum, Aluminum Bronze, Stainless Steel, and Copper.
Visit our Ecards section: