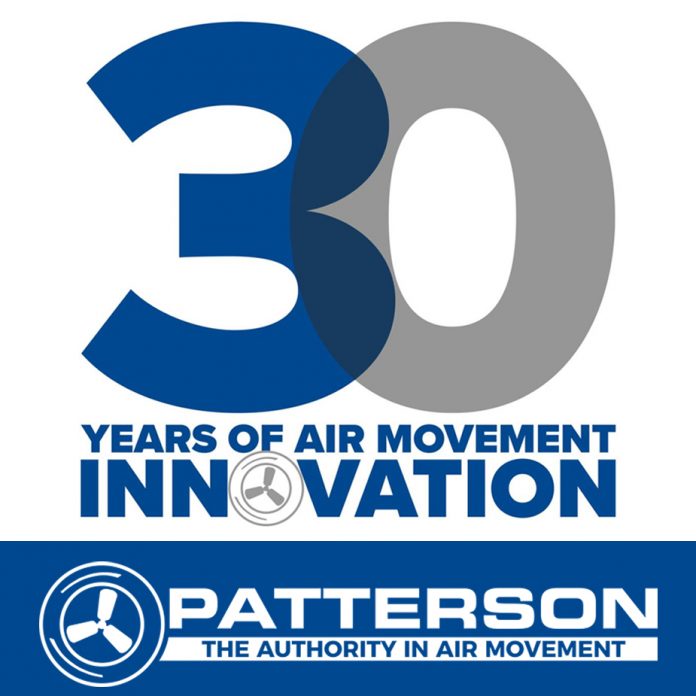 In 1989, Patterson Fan Company (PFC) started as a side-line business to Solar Shield, Inc., a company that manufactures and installs industrial roof cooling systems across the country. A Solar Shield customer needed a fan that could throw air a long distance. G. V. "Pat" Patterson, having a background in ventilation, delivered two fans to the customer, and the customer immediately wanted to buy more. His son, Vance, looked at the fan and said, "We can make that fan." Pat replied, "No way! I don't want to get back into manufacturing." Vance knew his father well, and sure enough, two weeks later, Pat said, "You know Vance, we can make that fan." Parts were ordered to make 16 units, and with some modifications, a more advanced fan was developed. Fan sales exploded past roof cooling sales, and Pat described it as "having a tiger by the tail." Within five years, at #160, Patterson Fan Company made the INC. 500 list for the fastest-growing private companies in the U.S.
"This is an incredible milestone for any company," founder and CEO, Vance Patterson, remarked. "We have achieved this success through the hard work, passion, and dedication of our employees and our culture of customer service that exists throughout the entire organization. This anniversary is a celebration of the company's success over the last 30 years. We could not have done it without the trust and loyalty of our customers and suppliers – we recognize that our success is linked directly to theirs."
With the third generation of Pattersons carrying on the legacy, Patterson Fan is continuing to build their brand identity on excellent product quality and customer service while staying passionately committed to their employees and customers.
About Patterson Fan Company
With 30 years' experience in industrial fan manufacturing and applications, we know air movement. From high velocity to high volume, warehouse loading docks to pick modules, our industrial fans are your solution.
Patterson Fan Co.
1120 Northpoint Blvd.
Blythewood, SC 29016
P: (800) 768-3985
Contact
Megan Hammond
P: (800) 768-3985 x119