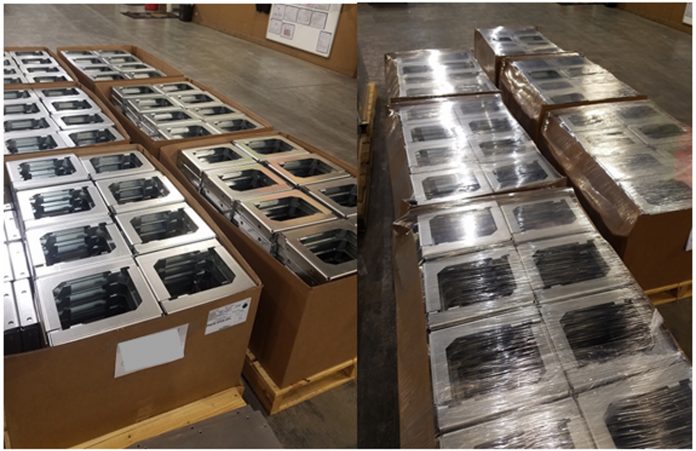 The TAB Wrapper Tornado orbital wrapping system from packaging machinery manufacturer TAB Industries, LLC, Reading, PA enables one worker to automatically wrap metal parts in process in protective stretch-wrap in 60 seconds or less to prevent contamination due to dust and humidity during stops between secondary operations or in extended storage. Encasing loose, stacked and containerized work-in-process to the pallet, the TAB Wrapper Tornado keeps parts safely in place to prevent scratches and scuffs due to sliding against each other in transit to and from stamping, welding, tapping, powder coating, shipping and other departments, even to and from outside vendors.
Ideal for safeguarding plated, powder coated, and other finished parts often rendered off-spec by ordinary handling, the TAB Wrapper Tornado reduces the risk of rejection upon quality inspection or upon delivery while extending the length of time the work-in-process may be safely staged or stored. "After every process, we'll put the parts in a box and wrap them because they might sit on a shelf for weeks before we take them to the secondary operation," says Nick LaVigne, plant manager for Monti Inc., Greenwood, S.C. "With the TAB Wrapper Tornado, we reduce oxidation and cross-contamination and we've eliminated product damage during transport."
The patent-pending TAB Wrapper Tornado orbital wrappers wrap plastic film 360 degrees around and under a pallet and its load to secure the load to the pallet and create a sturdy, unitized load without banding, boxing or strapping. The wrapping systems are designed and manufactured at the company's Reading, Pa. headquarters and delivered with a warranty ready for installation.
About TAB Industries
TAB Industries has been providing warehousing, distribution and logistics services to global corporations since 2005. Currently, the company operates a 44,000 square foot modern facility and serves as the East Coast Distribution Center for DKS Steel Door and Frame Systems. They also handle warehousing for Rite Aid, Walgreens, CVS, Giant Foods and Fidelity Technology.
Drawing from their experience in warehousing and distribution and their desire to provide their customers with quality service, the team at TAB Industries developed a superior stretch wrap packaging machine that solves many of the problems faced by companies all across the country. Introduced in 2011, The TAB WRAPPER TORNADO® quickly took the packaging world by storm, offering an economical alternative to more expensive packaging machinery available from competitors.
To date, the TAB WRAPPER TORNADO® has helped countless companies reduce labor and material costs, increase productivity and virtually eliminate freight damage claims.
TAB Industries, LLC
2525 N. 12th Street
Reading PA 19605
P: (610) 921-0012