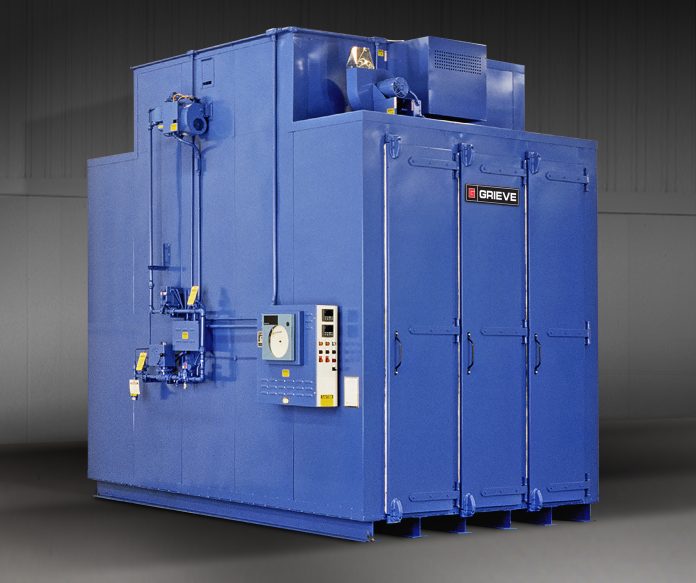 No. 942 is a 350°F (177°C), special walk-in oven from Grieve, currently used for curing epoxy at the customer's facility. Workspace dimensions of this oven measure 84" W x 144" D x 108" H. 400,000 BTU/hour are installed in a modulating natural gas burner, while a 12,000 CFM total are provided by two (2) 5-HP recirculating blowers providing combination airflow to the workload.
This Grieve oven features 4" insulated walls, aluminized steel interior and exterior and three (3) independent doors for access to workspace on front with standard double doors on rear. Additional features include 2" insulated floor with three (3) pairs of truck wheel guide tracks. The oven is raised above factory floor level on 6" I-beams.
The oven features all safety equipment required by IRI, FM and National Fire Protection Association Standard 86 for gas heated equipment, including a 325 CFM, 1/3-HP powered forced exhauster.
Controls on the No. 942 include a digital programming temperature controller and 10" diameter circular chart recorder.
About Grieve
Grieve's only business since 1949 has been to design and manufacture industrial ovens and furnaces. At Grieve, you'll find quality at each and every step of the design and manufacturing process. With CAD/CAM/CAE design equipment and ever-improving manufacturing procedures, we make the very best ovens and furnaces possible. Since we are the manufacturer, all our industrial ovens and furnaces are given a thorough in-house performance inspection prior to shipping.
The Grieve oven or furnace you are about to receive at your facility has been fully tested. From complete paint coverage to gasket fit, door hinge alignment, wire bundling neatness, shelf and accessory item counting, every aspect of a Grieve product is carefully checked by a member of our company's management before the unit is crated for shipment.
The Grieve Corporation
500 Hart Road
Round Lake, Illinois 60073-2835 USA
P: (847) 546-8225
F: (847) 546-9210
Contact
Frank Calabrese