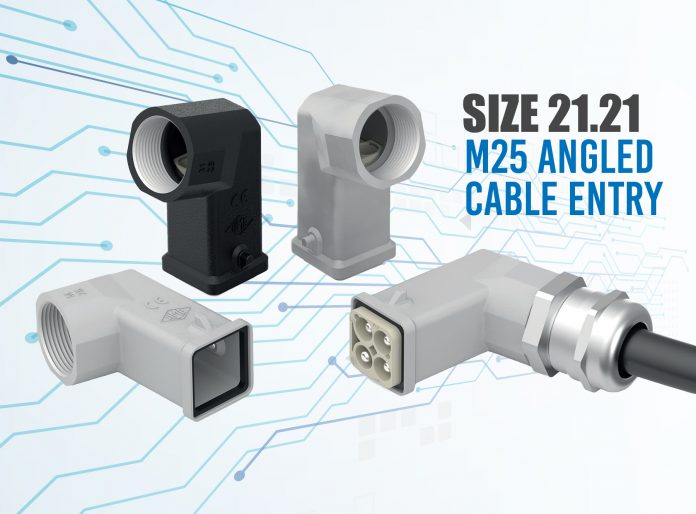 The wide range of 21.21 rectangular connectors offers a number of advantages for modern industrial applications. They provide a secure and reliable connection for power and signal transmission, with high resistance to environmental factors such as dust, moisture, and vibration. In addition, their compact design allows for easy installation and maintenance, making them a popular choice for a wide range of industrial machinery and equipment.
The new size 21.21 metal hood with angled M25 cable entry can accommodate large diameter cables or wire bundles while eliminating torsional stress on the locking lever of the mating enclosure. They are available in four different versions: a standard version for heavy-duty applications, a DESINA® version with a bonded gasket, a W-type version with improved corrosion resistance for aggressive environments, and an EMC version with a conductive surface for optimum electromagnetic shielding.
These are fully compatible with the existing range of "21.21" enclosures and they are particularly suitable for CQ series inserts with a high number of individual conductors. When installed with the sealing kit (CKR-65 or CKR-65D), they provide IP66/67/69 degrees of protection.
About Mencom
Founded in 1987, Mencom Corporation provides high-quality, cost-effective solutions that meet industrial electrical connector requirements. Our highly trained staff of experts utilize decades of electrical and electronic industry-related experience to develop the highest quality products available. In addition, this vast expertise allows us to assist OEM customers in selecting the best products to meet their unique connection requirements. This ensures our customers receive the most cost-effective solution possible, plus one that requires minimal installation time, reducing the customer's total installed costs. Mencom is also the North American Master Distributor for ILME rectangular connectors. Mencom's headquarters and warehouse facilities are located in Oakwood, Ga., just north of Atlanta.
Visit our Ecards section: