FANUC's all-new DR-3iB series of delta robots are specifically designed to maximize speed and versatility in picking and packing applications, especially in food handling and washdown environments. Based on the classic parallel-link design, the DR-3iB Series provides increased payload, inertia, and the longest reach of any FANUC delta robot (1600mm). But the details really make it shine: New design features make it easier than ever to program, clean and sanitize, while meeting even the most strict food safety regulations.
*Please note: The FANUC DR-3iB/8L is coming in early 2020!
The Primary Food Handling Specialist.
Robots with painted surfaces are not suitable for sensitive food applications, as damaged paint can chip and fall on products. The DR-3iB/8L is unpainted and surface treated with electroless nickel plating. It has no springs, no stickers, no pocketed fasteners, and includes angled surfaces to allow for self-draining – making it easier than ever to maintain.
Secondary catch basins and viewing windows on all major axes' reducers allow users to easily check for early grease/oil leaks before anything escapes the mechanical unit. Standard IP69K protection makes the DR-3iB/8L ideal for environments with strict washdown standards.
Highlights:
More reach and payload for more applications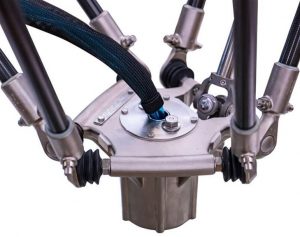 The DR-3iB series is FANUC's largest-envelope and highest-payload delta robot, with 1600mm horizontal reach (500mm vertical), and up to 8kg payloads. This allows for handling longer reach applications such as working on very wide conveyors and case-packing into tall boxes or cartons, all while maintaining repeatability of +/- 0.03mm. With higher payload and increased wrist inertia (0.2kgm²), the DR-3iB/8L can handle even heavier products at higher conveyor speeds.
Brake release feature
A new feature for FANUC delta robots, an added brake release switch allows DR-3iB users to conveniently move the robot without the need for a teach pendant.
Easy to integrate
The DR-3iB series now includes features that make it easier than ever to integrate cables and dress-out. Mounting provisions make it easy to cleanly route cables and vacuum hoses along the link arms, and a large 20mm hollow wrist allows for easy wiring and piping to the wrist and EOAT. These features enable better cable control and help extend cable life.
iRPickTool for multi-robot lines
Integrated iRVision with FANUC's conveyor tracking iRPickTool software make it easy for multiple high-speed robots to work together efficiently on a production line.
About FANUC
FANUC America Corporation, headquartered in Rochester Hills, MI is the leading supplier of robots, CNC systems and factory automation.
Founded in 1982, FANUC America has over 1,500 employees in the Americas. Our team of automation professionals work in customer service, engineering, finance, human resources, IT, logistics, operations, manufacturing, product development, sales & marketing and training.
Construction is underway for a new North Campus facility adjacent to our headquarters that will house engineering, product development, manufacturing and warehousing. (link)
In 2019, FANUC America was named one of Michigan's top workplaces by the Detroit Free Press for the eighth consecutive year. In addition, the Chicago Tribune named FANUC America's Hoffman Estates, IL regional office one of Illinois' top workplaces.
FANUC US Corporate Headquarters
3900 West Hamlin Rd.
Rochester Hills, MI 48309
888.FANUC.US