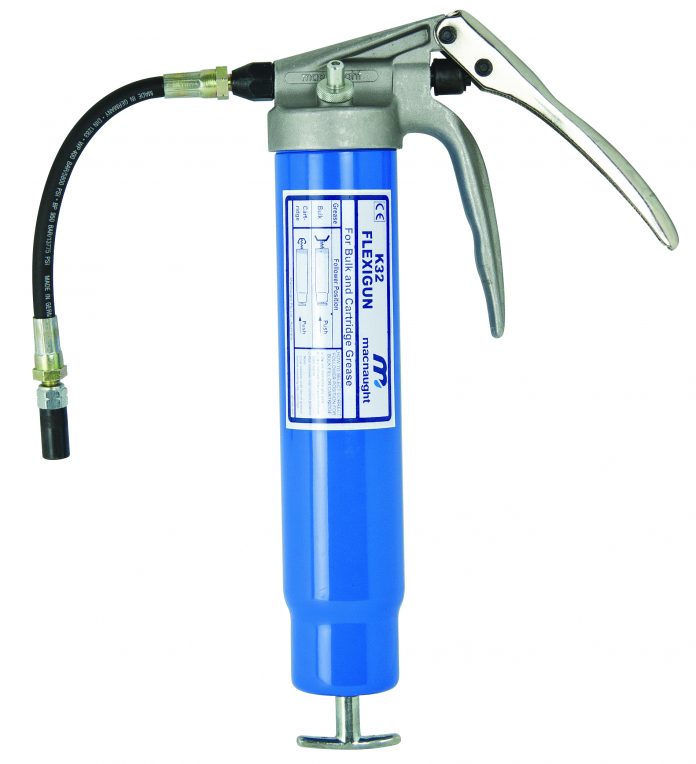 Macnaught Americas has introduced its K32-01 Flexigun manual grease gun for automotive, fleet, construction, agricultural, mining and industrial applications. Offering an industry-leading warranty, this grease gun delivers best-in-class cost of ownership.
The Flexigun's variable-stroke piston and valve arrangement facilitates one-handed operation. It is fully serviceable and features a heavy-duty stepped barrel and durable zinc handle for long service life and improved grip. The tool includes the KY Supergrip™ three-jaw, high-pressure coupler for positive connection and utilizes a 12-inch flexible extension to access lubrication points. The Flexigun's output pressure ranges from 5,000 to 10,000 psi with output volume of 0.02 ounces per shot. Compatible with standard 14-ounce grease cartridges, the tool also is bulk fillable with NLGI No. 2 grease.
The grease gun utilizes screw fasteners for simple servicing, and its filler bleeder requires no tools to open. The tool's plunge rod can be locked into the follower for easy bleeding.
About Macnaught Americas
Established in 1989 in Tampa, Fla., Macnaught Americas is a wholly owned subsidiary of Macnaught Pty Ltd and oversees all business operations in the United States, Canada, Mexico, Central America, South America and the Caribbean Basin. The company's offering includes fluid handling equipment, Retracta® hose reels and accessories, as well as a complete line of positive displacement flow meters.
Macnaught Americas
614 S Ware Blvd
Tampa Florida 33619
P: (813) 628-5506
Contact:
Jennifer Payne | jennifer@freshinkcr.com
P: (918) 369-0303