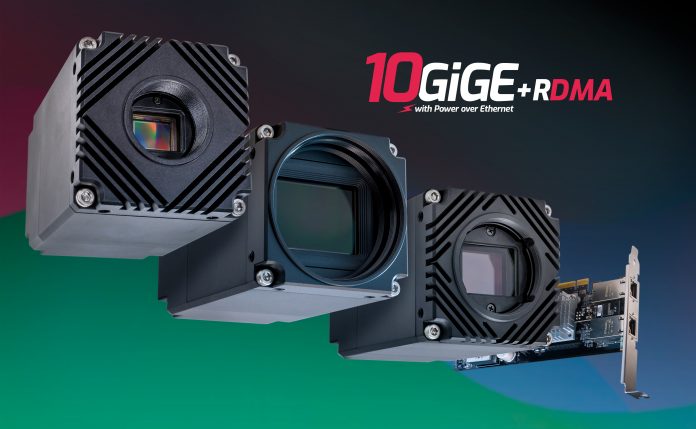 LUCID Vision Labs, Inc., a designer and manufacturer of unique and innovative industrial vision cameras, today announced the integration and availability of Remote Direct Memory Access (RDMA) data transfer technology across its complete range of Atlas10 – 10GigE cameras.
LUCID's award-winning Atlas10 camera featuring RDMA provides optimized, zero-copy image transfer over a 10GigE interface. The Atlas10 with RDMA reliably streams 1.2 GB/s of data directly to main memory, bypassing the CPU and OS. This increases throughput, lowers latency, and eliminates CPU usage, which are required for reliable multi-10GigE camera applications. LUCID's RDMA implementation includes an updated Arena SDK version featuring RDMA support, a complimentary RDMA firmware upgrade for all existing Atlas10 camera models, and a selection of two compatible, cost-effective dual port 1G/10G PoE+ RDMA-enabled network interface cards.
"LUCID is leveraging a robust RDMA-enabled ecosystem utilizing readily available industrial-grade components such as cabling, interconnects, and common interface cards, supported by a broad portfolio of vendors," explains Rod Barman, Founder and President of LUCID Vision Labs. "This has allowed us to offer an easily accessible and cost-effective 10GigE RDMA camera solution tailored for high-bandwidth and high-speed Ethernet applications."
The Atlas10 10BASE-T camera is known for its industrial reliability offering Power over Ethernet (PoE+), robust M12 and M8 connectors, Active Sensor Alignment for superior optical performance, and a wide ambient temperature range of -20°C to 50°C. The Atlas10 is a GigE Vision and GenICam compliant camera with data transfer rates of 10 Gbps that can use standard CAT6 cables up to 25 meters. Atlas10 also features Power over Ethernet (PoE+) which simplifies integration and reduces cost.
As an active member of the GigE Vision standards committee, LUCID supports the integration of RDMA technology into the next release of the GigE Vision standard. LUCID believes standardization of RDMA technology will accelerate the industry adoption of faster Ethernet transfer rates such as 10GigE, 25GigE and beyond.
The RDMA-enabled Atlas10 – 10GigE cameras and a selection of two compatible, cost-effective dual-port 1G/10G PoE+ network interface cards are now available to order. Additionally, the latest Arena SDK and firmware versions with RDMA support can be downloaded for immediate use. For more information, please visit our Atlas10 product page or contact Sales.
About LUCID
LUCID Vision Labs, Inc. designs and manufactures innovative machine vision cameras and components that utilize the latest technologies to deliver exceptional value to customers. Our compact, high performance GigE Vision cameras are suited for a wide range of industries and applications such as factory automation, medical, life sciences and logistics. We innovate dynamically to create products that meet the demands of machine vision for Industry 4.0. Our expertise combines deep industry experience with a passion for product quality, technology innovation and customer service excellence. LUCID Vision Labs, Inc. was founded in January 2017 and is located in Richmond, BC, Canada with local offices in Germany, Japan, China and Taiwan.
Visit our Ecards section: