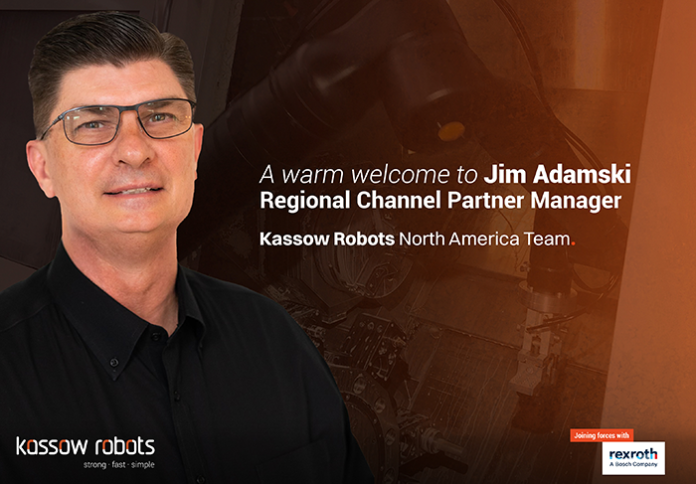 Kassow Robots, a developer of 7-axis robot and industrial cobot solutions for machine tending, material handling, dispensing, and various other applications, is pleased to introduce Jim Adamski as the company's first regional channel partner manager in the U.S. The U.S. team is set to expand with the addition of another regional channel partner manager this summer and is also currently seeking a technical support engineer. The team will be part of Bosch Rexroth, the company's majority owner, but will work exclusively on Kassow Robots.
As a U.S. regional channel partner manager, Adamski will be responsible for expanding Kassow Robots' partner network and supporting the company's system integrators and distributors in North America. He joins Kassow Robots with over 30 years of factory automation experience.
"Establishing a local U.S. team will allow us to better support our system integrators and distributors in North America," said Dieter Pletscher, global sales manager at Kassow Robots. "The fact that Jim already knows Bosch Rexroth well from an earlier position is certainly an advantage."
Kassow Robots, founded by CEO Kristian Kassow, made its first public appearance in 2018. Bosch Rexroth has been the majority owner since April of 2022.
"We are pleased to have Jim join our 7-axis cobot sales team and welcome him very warmly to the team," said Kristian Kassow, CEO and co-owner of Kassow Robots.
Kassow Robots — a leap ahead in cobot technology
"If you are looking for a great robot, look no further than Kassow Robots," said Adamski.
"I joined Kassow Robots because they have one of the most exciting products in an exciting area of factory automation. I think the 7-axis robots are a leap ahead in cobot technology. And the combination of Kassow Robots and Bosch Rexroth means customers will be working with a great team of automation talent."
Kassow Robots' 7-axis lightweight cobots offer small footprints and increased maneuverability to perform such tasks as bin picking and packaging. The unique 7th axis, or "wrist joint," enables continuous dispensing, welding, and material removal applications, regardless of access angle, without the need to reorient the arm. The cobots are easy to program and operate after a short introduction, allowing small and medium-sized enterprises (SMEs) without robotics specialists to implement automation cost-effectively and independently.
Meet Jim Adamski and the Kassow Robots team at Booth 4803 at Automate 2023, May 22−25 in Detroit, Michigan.
About Kassow Robots
Founded in Copenhagen (Denmark), Kassow Robots designs and manufacturers 7-axis lightweight collaborative robots for industrial applications that are "strong, fast, simple." Bosch Rexroth has been Kassow Robots majority owner since April of 2022. Kassow Robots line of five 7-axis cobots, with a reach as long as 1,800 mm and payload of as much as 18kg, offers a unique package of high speed, power, and reach. When combined with simple programming techniques, our cobot capabilities can help industrial customers quickly and cost-efficiently perform their automation tasks in machine tending, material handling, general automation, and related applications.