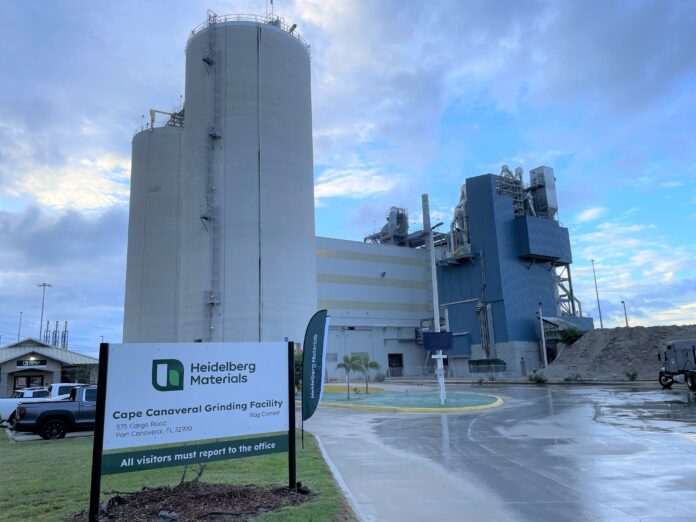 Heidelberg Materials celebrated the grand opening of its newly expanded slag cement plant and terminal in Cape Canaveral, Florida, on Thursday, May 25, 2023. The company's President & CEO, Chris Ward, along with its Southeast Region President, Scott Dickson, and the Director of Cement Operations for Florida, Neil Hodgson, hosted a group of customers, suppliers, Canaveral Port Authority leaders, and others for a brief ceremony followed by a tour of the plant.
Commissioned in 2004, the Port Canaveral Slag Plant and Terminal is currently the newest slag grinding plant in North America. The company recently invested more than 24 million dollars in a new roller press which increases its grinding capacity to better support sustainable and resilient construction projects throughout the state of Florida and nearby markets.

"Heidelberg Materials' investment in the Port Canaveral slag cement facility is reflective of our commitment to supporting sustainable and resilient construction projects in the state of Florida and throughout the country," said Ward. "It is also aligned with our goal to significantly reduce our carbon footprint by 2030 and another milestone in our overall strategy to grow our portfolio of more sustainable products, technologies and customer-focused solutions on the path to Net Zero."
About Heidelberg Materials North America
Based in Irving, Texas, Heidelberg Materials North America is part of Heidelberg Materials, one of the world's largest integrated manufacturers of building materials and solutions. At the center of our actions lies our responsibility for the environment. We are pioneers on the road to carbon neutrality and circular construction. We're developing new, sustainable building materials as well as intelligent digital solutions.
Visit our Ecards section: