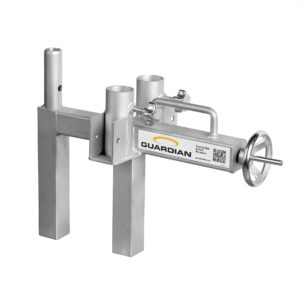 Global height safety specialist Guardian is pleased to announce the new 
Trench Box G-Rail Receiver
 to its industry-leading guardrail system portfolio in North America. This new OSHA compliant (OSHA 1926.502) product is a great solution for keeping workers safe while working near exposed or deep trenches. Its unique design offers easy installation onto a variety of trench box walls and configurations, and is the only receiver in the industry to offer multiple guardrail receptacles to fit a wide range of guardrails.
Key features of the all-new Trench Box G-Rail Receiver include:
Patent pending low-profile design allows end-users to add guardrails to trench box corners to reduce challenging gaps and to enhance safety.
Best-in-class precision adjustment allows user to install on trench boxes or other compatible structures with wall thicknesses ranging from ¼" up to 8".
Unique Adjustment Wheel provides quick installation without the need for tools.
Lightweight and portable with an integrated easy carry handle and weighing only 14 lb, it is easy to position and move around jobsites.
Versatile and adaptable – Accommodates two Guardian G-Rails per receiver with a third connection option for alternate guardrails.
Fabian Guerrero, Senior Product Manager says "Guardian continues to solidify its position as one of the market leaders in guardrail systems. While many think this category is commoditizing, we see it differently and go beyond to identify and solve more customer problems. The new Trench Box G-Rail Receiver has the versatility and adjustability to accommodate most trench boxes currently used in the field. It is super simple to transport and install and has received a great reception from experienced users in the passive fall protection system market. We are very excited that launch time is now here!"
About Guardian Fall
Guardian is the world's largest independent fall protection and prevention partner. With design, manufacturing, height safety training and engineered system experts across North America and the UK, it serves partners around the globe with a 360-degree height safety offer.
Visit our Ecards section: