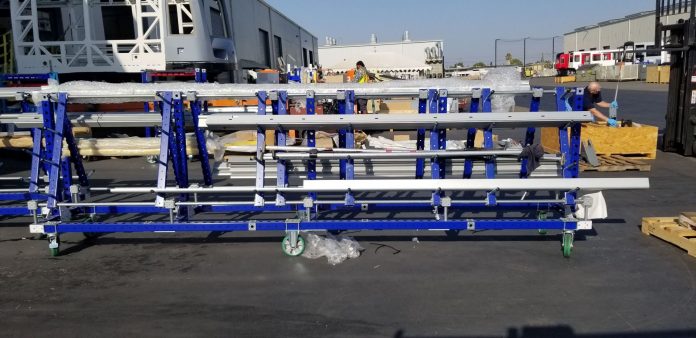 The carts for Siemens Mobility are some of the largest ones FlexQube designed and delivered and have special pneumatic casters for outdoor use on rough surfaces. Carts are being used to transport different components used for the manufacturing of rail vehicles, locomotives, and light rail trains.
This is the second order of the same type of carts to the plant, and Siemens Mobility in Sacramento continues to be a valued customer for FlexQube Inc.
FlexQube has delivered carts to the plant since 2017.
Long Kit Cart (above)
1610 x 3080 mm, Q-100-2438
Three-level hanger kit cart equipped with six casters, two fixed casters, and four swivel casters as well as a handlebar and towbar.
This heavy-duty hanger cart was designed to transport heavy wires, ropes, chains, and tubes more efficiently. This cart has a drop pin and hitch tow bar for transportation in a tugger train system, and a handlebar making it easy to manoeuvre.
Stage Cart (above)
910 x 2450 mm, Q-100-3000
Specially designed cart for transporting unique materials upright.
This cart is equipped with tubes in four rows so that long and thin components can be stood upright. It is equipped with an ergonomic handlebar for manual transportation, as well as a tongue and hitch tow bar for transport in a tugger train.
About FlexQube
Modular solutions. Your materials constantly change… Shouldn't your cart?

FlexQube creates solutions based on your requirements to suit your specific needs while providing robust, modular and ergonomic solutions for material handling.
FlexQube Inc.
720 Empire Expy
Swainsboro, GA 30401 USA
P: (734) 624-2121