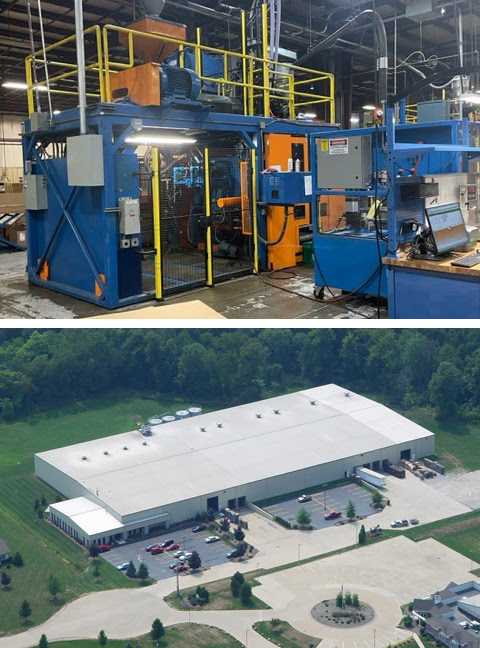 A 3 lb Sterling duel head blow molding machine was commissioned this month at Flambeau, Inc.'s plastic manufacturing facility in Sharon Center, Ohio, increasing the production capacity of the plant's existing bank of blow molding machines. The plant is one of the plastic molding company's eight facilities across the United States.
The vintage 1995 press was retrofitted with all needed safety upgrades and began its new life this month. The press doubles the plant's previous 3 lb machine capacity, adding vitality to the Sharon Center plant, opportunity for its workforce, and increased focus on the production needs of its customers. Through Flambeau's increased capabilities in blow molding with the added press, customers will have the reliable and high-quality plastic components needed for their products.
Flambeau's engineers performed thorough research to ensure the company's investment in the Sterling press would be compatible with Flambeau's operations. Its "dual head" capacity means is has two accumulator heads, indicating the press will produce two parts at a time. The "3 lb" designation means each head is capable of up to a three-pound shot size, each.
The plant's new capacity follows wage increases implemented last year, benefiting Flambeau's 110 hourly associates in Sharon Center. The plant raised its starting wage by almost 25%, its top-of-scale wage by more than 27%, and its technical position pay by more than 20%. As a Plastics News Top 100 company in North America in three molding categories, Flambeau's 123,000-square-foot facility in Sharon Center has distribution destinations throughout North America, where all U.S. plants experienced wage increases.
The Sharon Center facility is ISO-9001, ISO-14001, and IATF-16949 certified, with capabilities in blow molding processes, from part design to fully automated assembly. Always investing in its future and its customer's needs, Flambeau continually strives to maintain its role as one of North America's top thermoplastic manufacturers.
About Flambeau, Inc.
Flambeau, Inc., a Nordic Group company established in 1947, is a thermoplastics manufacturer headquartered in Baraboo, Wisconsin. Flambeau produces a wide array of fuel and fluid containers, tanks, components and systems, with in-house capabilities to customize, assemble, test, and decorate any product. With certified facilities and sales offices throughout the United States, Mexico, United Kingdom, and in China, Flambeau serves many retail, commercial, and industrial markets, including contract manufacturing for key sectors of the automotive, medical, fluids, and packaging industries.
Visit our Ecards section: