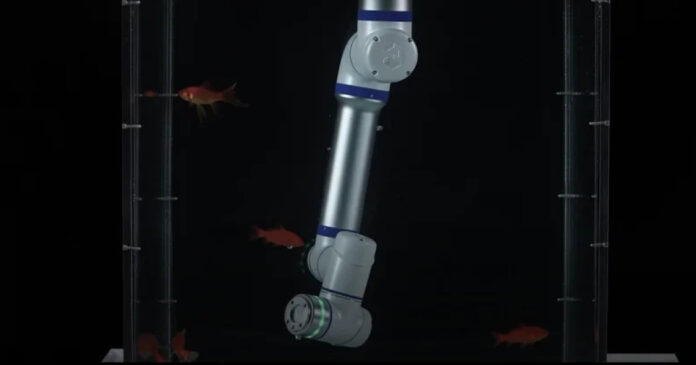 CS620, the latest cobot model of the company, featuring a 20 kg payload, a first-of-its-kind 5A output source, and a leading 1800 mm radius, will be unveiled at a series of global trade events in the United States, Asia and Europe.
Elite Robots, a leading supplier of collaborative robots, will unveil CS620, its new 20 kg payload model, at a series of upcoming trade shows in Vietnam (Vietnam Industrial and Manufacturing Fair, Binh Duong, June 21-23) and Germany (Automatica, Munich, June 27-30) .
CS620 is going to enrich Elite Robots' next generation of collaborative robots, the CS series. Released in 2022, this cutting-edge cobot range has joined the EC series and stands out for its remarkable ease of use, safety, and expandability.
The CS series is based on an advanced software infrastructure, with an intuitive and modular graphical user interface that supports the Python scripting language and self-developed plug-ins, offering a high level of customization for programmers. With 24 digital I/O (8 configurable) and 4 configurable tool I/O, and extensive connectivity options, it provides the highest expandability, while safety is ensured by compliance with ISO 10218-1 and ISO 13849-1 standards.
The CS series currently includes models with payloads of 3, 6, and 12 kg, and CS620 further expands its already wide range of applications with a 20 kg payload and 1800 mm reach. Combined with an industry-leading speed of up to 3.9 m/s (that exceeds counterparts by up to 35%), it is perfect for effectively performing medium-to-high payload tasks such as handling heavy parts or palletizing.
Equipped with a dual tool connector (8-pin and 4-pin), the CS620 is the world's first cobot to supply end effectors through a 5A tool I/O. This ensures that the cobot always has enough power to perform demanding tasks, such as machine tending and welding, and to handle multiple devices simultaneously.
Like all other models in the CS series, the CS620 robotic arm features an IP65 degree of protection, upgradeable to IP68. The ISO class 5 cleanrooms also make the CS Series suitable for industries that require the highest level of hygiene, such as pharmaceutical and electronics.
About Elite Robots
Elite Robots is a global automation solutions provider specializing in collaborative robots. With over 10,000 units deployed across more than 30 countries, the company has quickly gained a growing reputation in the robotic industry thanks to the reliability, ease of use, and cost-effectiveness of its cobots. Businesses of all sizes, including Fortune 500 companies, have placed their trust in Elite Robots.