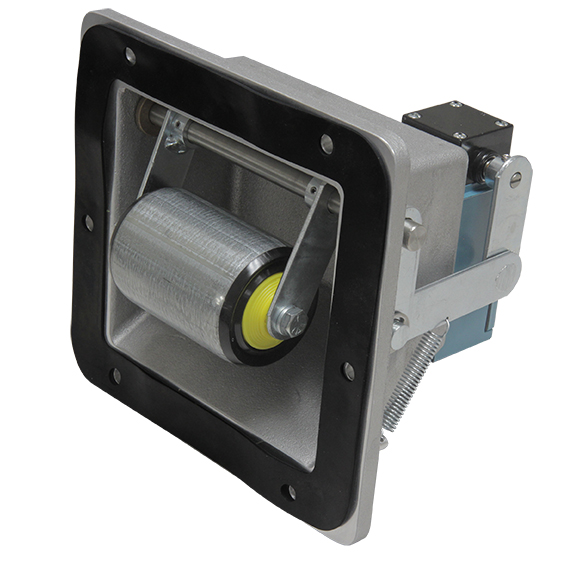 Bucket elevator belt alignment made simple! The model VA and VA-X (bucket elevator alignment control), manufactured Conveyor Components Company, has a rugged heavy duty cast aluminum housing. The model VA and VA-X is designed to indicate when the head or boot section of a bucket elevator drifts too far out of alignment. This unit can be used to signal a problem or simply shut down the bucket elevator leg before further damage can occur.

This control device has a sequential 2-pole double-break microswitch rated for 20 amps at 120 VAC, 240 VAC, or 480 VAC. The switch actuation and linkage arms are field adjustable with a simple 3/32" hex wrench adjustment. The metal roller is sturdy and bi-directional, and designed to survive in difficult environments. The housing is rugged cast aluminum with a specially designed non-accumulating pocket. The model VA microswitch is rated for NEMA 4 weatherproof, or NEMA 7/9 explosion proof (model VA-X). Epoxy powder coating or polyester powder coating is available as an option.
About Conveyor Components Company
Conveyor Components Company, established in 1965, is world-renowned for quality engineered products at economical prices. We pride ourselves in manufacturing rugged durable equipment for monitoring and cleaning your Conveyor System. Bulk material handling customers and processing industries have come to depend on. Conveyor Components Company is a manufacturer of conveyor controls, motion controls, level controls, bin aerators, and conveyor belt cleaners.
Conveyor Components Company is a proud supporter of OPERATION SUPPORT OUR TROOPS AMERICA, a non-profit organization whose mission is to support the morale and well-being of American forces by providing comfort, resources, and education to them and their families both, while they are deployed in harm's way and after their return. OSOT provides a link between the citizens and military personnel so that everyone has the opportunity to express their support. They send comfort packages of items that are not readily available to our troops in their deployed locations, along with personal letters, cards, and notes of support.
Visit our Ecards section: