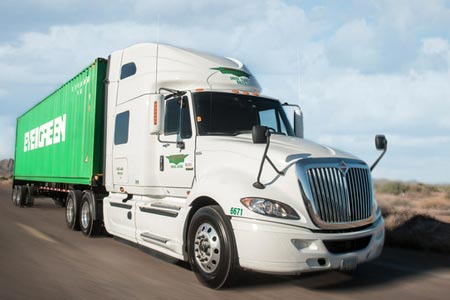 Duncan & Son Lines, Inc. is proud to celebrate its 75th year as a respected leader in the commercial transportation and trucking industry, both on the state and national level. With three-quarters of a century worth of experience, the family-owned company has established a reputation as one of the best in the business, providing customers with excellent service using reliable vehicles, cutting-edge technology, and a commitment to best practices. The award-winning trucking company has been a fixture in the Phoenix community since 1943 and will be commemorating this milestone with company-wide celebrations and a renewed focus on ongoing excellence.
"I think that 75 years shows that we've not only been willing to adapt to the market, but we've been change agents and market makers," said Steve Hitchcock, COO. "We look forward to continuing our leading position in Phoenix drayage- hopefully for another 75 years."
Founded in 1943 by Richard (Blaine) and Iris Duncan, the company began with two trucks serving American forces and farmers during World War II. During the post-war years of growth and development, Blaine and Iris met the ever-expanding demand for intrastate transport, hauling agriculture, heavy machinery, and mining products using nearly 100 trucks. Blaine's son, Richard, became the second generation of Duncan's to run the family business after his passion for trucking blossomed at a young age.
Richard Jr. and his wife, Marjorie, operated the business until the 1970s, welcoming his son Rick into the business after his college graduation. Rick played a major role in attempting to maintain the regulation of the trucking industry, providing professional testimony at state-wide hearings. Although deregulation eventually prevailed, the Duncan's smart business approach and loyal customer base allowed the family company to survive the challenging times that resulted.
The 1980s brought a new level of business to Duncan and Sons, as the trucking company began transporting international ocean containers. Rick officially took the reins from his parents, helping to grow the company and establish partnerships with nearly all the major ocean carriers and many big-box retailers. His sons, David and Blaine, became the fourth generation to become a part of the business.
"We've been very fortunate, to get to our 4th generation of leadership," said Rick Duncan, CEO. "It has been gratifying to see my sons take the reins."
Today, David Duncan manages more than 250 trucks, a 1,500+ private chassis fleet, and 150+ power-only independent carriers as part of Duncan & Son Lines, while brother Blaine runs the company's used truck and equipment dealership. A major focus of the business has been to consistently update their services to provide customers with the best possible experience, which includes utilizing real-time data and smartphone technology to communicate proof of delivery and other pertinent information. Using an asset-based, employee model, Duncan & Sons is able to closely manage their capacity and have worked to master a workflow that allows for highly competitive pricing and timely service.
As of 2018, the Duncan & Son Lines will celebrate its 75th anniversary, led by nearly five generations of Duncans. The family attributes the business' success to the exemplary service and work provided by the dedicated drivers and employees that have helped lead the company to long-term success. Company-wide celebrations are planned to honor the major milestone, as well as to acknowledge the numerous Duncan employees that helped make it possible.
About Duncan & Son Lines
Duncan & Son Lines is a commercial transportation provider that's offered world-class service to the people and businesses of Phoenix for 75 years, including commercial trucking and used truck and equipment sales. With memberships in several professional organizations including the American Trucking Association and the Arizona Trucking Association, Duncan & Son has committed to leading the industry in customer service excellence using technology, efficient workflow, and professional expertise.
Duncan and Son Lines, Inc.
23860 West US Highway 85
Buckeye, AZ 85326
800-528-4283
P: (623) 386-4511
Contact:
Keith Jones | (602) 710-9012