Olympus Partners, a private equity firm headquartered in Stamford, Connecticut, USA, announced they have completed the acquisition of the DS Smith Plastics Division through their portfolio company Liquibox Corp., based in Richmond, Virginia.
Today we are announcing the new extruded products company name Corplex, a market leader in extruded plastic products for numerous market segments including automotive, pharmaceutical, retail, reusable packaging, graphics and more. Corplex operates out of seven sales and manufacturing facilities strategically located in France, the United Kingdom, Spain, Slovakia and the USA from where it delivers award-winning products to customers around the globe.
"This is a very exciting time for us at Corplex. By combining the industry expertise of Olympus with our capabilities, technical know-how and talented staff, we are well situated to offer our customers innovative, quality products and unparalleled service. As industries transition into a circular economy, our customers are faced with new challenges in the markets they serve. We are now ideally positioned to partner with them and continue developing the innovative solutions that will be critical to the success of their own businesses. Olympus has invested, and will continue to invest, to strengthen our market position and consolidate Corplex to remain the market leader for fluted plastic extruded products." — Lucas van der Schalk, CEO of Corplex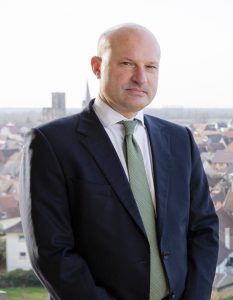 "At Corplex, we have a great story to tell around sustainability and closed loop distribution systems. Our products are lightweight and designed to be durable, reusable, recyclable to help our customers reduce their environmental carbon footprint with less waste and less emissions. Whether their requirements include improvements in logistics, managing costs or achieving sustainability goals, Corplex can help them realise these challenges." — Daniel Rohrmus, Chief Commercial Officer
For our customers, there will be no change other than our new name. We will continue to provide best-in-class products and services from the same trusted and familiar people.
About Corplex
Corplex (previously DS Smith Plastics, Extruded Products) has a long term expertise in plastics extrusion and partnership with key account customers in multiple markets. We have been growing by acquiring and founding production plants in Europe and in the USA over the last 50 years. To learn more about our history, have a look at our growing path along the years.
Corplex
B.P. 27
68240 Kaysersberg, France
P: +33 (0)3 89 78 32 30
F: +33 (0)3 89 47 18 56
Contact
Louis Patruno | Marketing Director