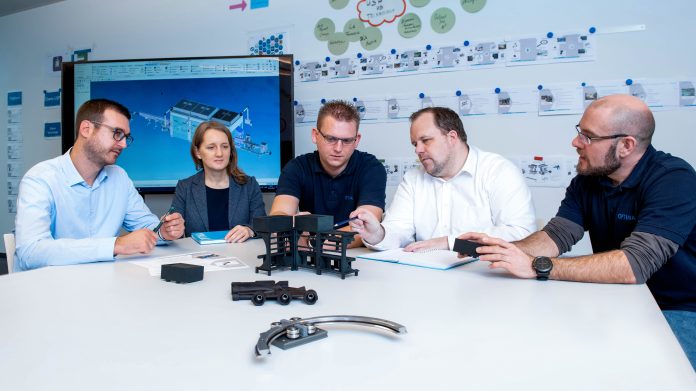 At the most important trade show of the packaging industry – Interpack – the Optima Group is providing a clear message about where the journey will lead in the years to come; in the direction of highly flexible, digitally optimized and resource-efficient machine and system solutions. The Group steeped in almost 100 years of company history achieves this with a wide range of synergies worldwide for pharmaceuticals, consumer goods, paper hygiene products and medical devices market segments. For the highly topical focus areas Flexibility, Safety, Digitalization and Sustainability, the company will be presenting new machine solutions, technologies and processes in Dusseldorf. Two innovation projects will be celebrating their world debut at Interpack. All solutions are committed to benefiting people and the environment. This is reflected in Optima's mission statement and slogan: We care for people.
The packaging industry is facing huge challenges. Packaging companies must react to changes in consumer behavior and the resulting changes in demand more and more rapidly. Consumers and manufacturing companies have high demands on packaging – they need to be individual, personalized and of high quality. And it is more important than ever to bring high packaging quality and effective packaging processes in line with sustainability goals. At the same time, product and process safety requirements are increasing. These developments affect the target markets of Optima to varying degrees – these are pharmaceuticals, consumer goods, paper hygiene and medical devices.
Optima, a technology partner with almost 100 years of experience, has turned these challenges into opportunities. Opportunities for even more flexible, safer, digitally optimized and sustainable packaging processes. In 2020 and particularly at Interpack, Optima Group experts are concentrating on four key topics: Flexibility, Safety, Digitalization and Sustainability.
The highlight: future production
The cosmetic industry is particularly affected by changes in demand. That's why Optima is developing a flexible machine platform that can be individually configured to cover all customer requirements – from start-ups to global corporations. A variety of initial constructive measures will be introduced at Interpack. The machine platform covers a wide range of outputs and enables fast response times to new products. This is achieved as a result of its modular design, which also facilitates short delivery times from Optima. The machine platform will be continually developed and adapted to current market conditions. The advanced and market-driven production system assists Optima customers in terms of ensuring a short time to market. Products can be launched on the market faster than ever before. This is achieved through customization and flexibility. The advantage of the concept is that it is possible to have many different variants – from semi-automated to completely automated. Depending on the particular application, different modules (transport systems, kinematics, filling modules, etc.) can be easily integrated into the machine platform. Embedded in a futuristic production environment, Optima provides an outlook as to how future production might look. Innovative concepts such as fully automated module and tool changes, cobots in action and the flexible configuration of machine functionalities will be presented at the booth.
The second machine exhibit also demonstrates how Optima supports manufacturing companies in terms of flexibility. The OPTIMA TB300 packaging system that consists of a stacker and a packaging machine can process paper packaging as well as foil pouches made of PE material or biodegradable materials. The company will also be showing an OPTIMA CFL filling and closing machine for capsules or pads – these can also be quickly and easily adapted from aluminum capsules to compostable capsules or expanded with additional stations. This of course also applies to the pharmaceutical sector – Optima will be giving a detailed virtual presentation of highly flexible machines for filling and closing liquids, through to turnkey solutions including isolator technology and pharmaceutical freeze drying. Experts from Optima will demonstrate how the use of robotics enables the processing of different batch sizes and containers.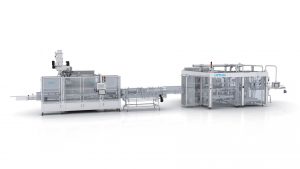 A world debut: High tech for the High Care sector
The food scandals of recent years have unsettled manufacturing companies. Requirements for safe and traceable filling processes for baby milk powder products are becoming more stringent. That's why Optima has developed an innovative solution concept for fully automated evacuation, gassing and seaming of baby milk powder containers. The machine dubbed OPTIMAT EGS is the result of extensive market research and will be presented for the first time at Interpack. With the OPTIMA EGS and OPTIMA FS filling machine, Optima now offers the core of baby milk powder production lines from a single source. In conjunction with edge computing solutions from Optima, it is possible to assign important production data to each container in a clear and traceable way via the processing procedures according to the Track and Trace principle. This also includes documentation of all process parameters, which significantly increases product and production safety in the area where the product is unsealed – the High Care sector.
The pharmaceutical industry benefits from the CSPE approach (Comprehensive Scientific Process Engineering), which minimizes the risks in the planning and production of filling systems and shortens the time to market. It will be explained in Dusseldorf how machine users can save valuable time.
Comprehensive OPTIMA Total Care life cycle management program
Future packaging processes will become more efficient, digitally networked and more complex. Interpack 2017 was the launch pad for the OPTIMA Total Care life cycle management program. At Interpack 2020, Optima will be presenting extensive enhancements in the field of digital applications, known as Smart Services. These will be provided on a central, user-friendly platform. The permanent availability of Smart Services means that agile, digital working on machinery becomes a reality. The objective of the program that brings together Basic and Smart Services is to support customers throughout the entire machine life cycle quickly and efficiently – from the installation, monitoring and maintenance through to the retrofitting of their system.
The edge computing software solutions developed by Optima give production managers complete transparency. If efficiency problems are identified, these can undergo troubleshooting and be resolved using digital maintenance tools. A knowledge database provides assistance to ensure technical documents and video tutorials are retrieved quickly. If more assistance is required, the customer's staff can connect with Optima service staff via a range of end devices such as a tablet or by means of augmented reality glasses. These guide the operators more effectively through the format changeovers or assist in resolving process problems. The topic of digitalization will play a key role at Interpack. The future solutions will be presented in detail with the help of numerous practical examples.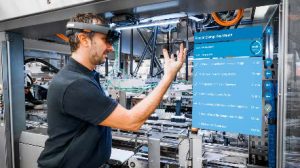 At Interpack OPTIMA will be demonstrating progress made in the area of sustainability
Packaging needs to accommodate social responsibility more than ever. At Interpack Optima will be demonstrating its progress made in the area of sustainability. This has been achieved with energy and media-optimized machines, effective use of material in design and assembly, an efficient utilization of packaging, a high process accuracy and production efficiency and the development of sustainable packaging solutions, together with machine users and producers of packaging materials. That's why Optima will be showing a packaging system at Interpack, consisting of a stacker and packaging machine that can use film and paper as packaging material. Optima's aspiration is to fulfill customer requests 100% percent. This also applies to sustainable packaging material. 100% percent paper packaging, packaging made of recycled plastic, biologically-based and biodegradable plastics are already used in Optima systems today, without compromising on design and product protection.
Optima Machinery Corporation – Headquarters
1330 Contract Drive
Green Bay, WI 54304, USA
P: (920) 339-2222
F: (920) 339-2233
Contact
Jan Deininger | Editor
+49 (0)791 / 506-1472