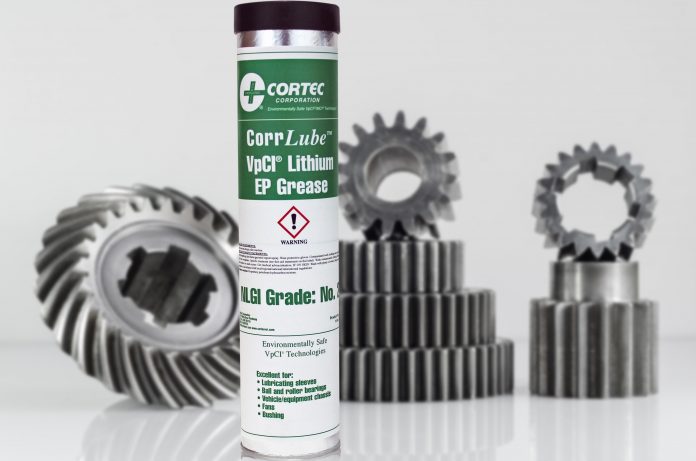 CorrLube™ VpCI® Lithium EP Grease from Cortec Corporation is an extreme pressure lithium complex grease with superior corrosion inhibiting properties against salt water, brine, H2S, HCl, and other corrosive agents. It is an excellent all-purpose grease to use on metal-to-metal contact areas either during operation or layup.
While most greases offer enough protection during operation by displacing moisture and creating a barrier layer, additional protection may be needed in extremely corrosive conditions or when switching from operation to preservation mode. Rather than requiring two different greases, CorrLube™ VpCI® Lithium EP Grease allows users to apply one corrosion inhibiting grease for both operation and layup. This eliminates the inconvenience of switching from one grease to another when transitioning from operation to layup or back again. It is particularly helpful for equipment that operates intermittently.
CorrLube™ VpCI® Lithium EP Grease can be used in countless all-purpose applications where NLGI Grade 2 grease is needed:
Metal-to-metal contact areas
Lubricating sleeves
Ball and roller bearings
Vehicle/equipment chassis
Fans
Bushings
Pulley bearings
Sliding high-friction areas
Generator end bearings
CorrLube™ VpCI® Lithium EP Grease has several advantages beyond its corrosion inhibiting properties. It offers a relatively clean application with minimal dripping and spattering. It also lubricates for long periods of time and even aids in the suspension of solid additives such as graphite, molybdenum, disulfide, and others. CorrLube™ VpCI® Lithium EP Grease has temperature stability from -22 to 266 °F (-30 to 130 °C) and is effective in extreme operating conditions such as low speed/high pressure or shock loading.
When dealing with layup or intermittent operating conditions, especially in corrosive environments, CorrLube™ VpCI® Lithium EP Grease is an excellent all-purpose grease for greater convenience and extra preservation power.
Click HERE to learn more about CorrLube™ VpCI® Lithium EP Grease.
About Cortec® Corporation
Cortec® Corporation is the global leader in innovative, environmentally responsible VpCI® and MCI® corrosion control technologies for Packaging, Metalworking, Construction, Electronics, Water Treatment, Oil & Gas, and other industries. Our relentless dedication to sustainability, quality, service, and support is unmatched in the industry. Headquartered in St. Paul, Minnesota, Cortec® manufactures over 400 products distributed worldwide. ISO 9001, ISO 14001:2004, & ISO 17025 Certified.
Cortec® Corporation
Environmentally Safe VpCI®/MCI® Technology
4119 White Bear Parkway
St. Paul, MN 55110 USA
800-4-CORTEC | (800) 426-7832
P: (651) 429-1100
F: (651) 429-1122