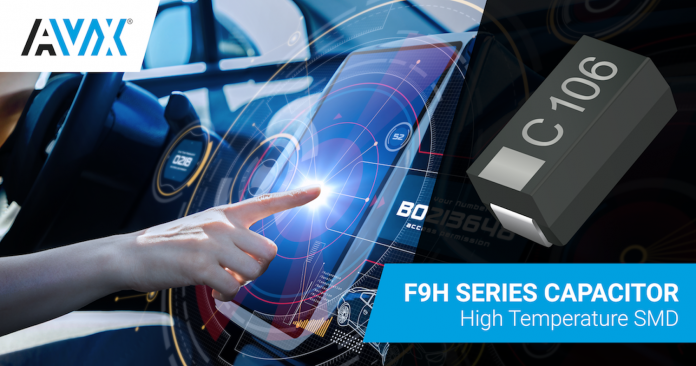 AVX Corporation, a leading manufacturer and supplier of advanced electronic components and interconnect, sensor, control, and antenna solutions, released a new series of miniature, surface-mount, J-lead tantalum capacitors that deliver high reliability and high volumetric efficiency in high-temperature automotive and industrial applications. The new F9H Series meets AEC-Q200 requirements, is compliant with RoHS2 directive 2011/65/EU, is rated for operating temperatures up to 150°C, and offers the industry's highest CV/cc in a high-temperature 1206 tantalum capacitor: a 10μF/16V rating that delivers 50% more capacitance than the now next-highest CV/cc 1206 tantalum capacitor, a 6.8μF/16V part. It also delivers higher reliability performance than standard automotive-grade capacitors, with a failure rate of just 0.5% after 1,000 hours at 105°C and rated voltage with 0.1Ω/V series impedance and a 60% confidence level.
The F9H Series is currently offered with four ratings: 1206 10μF/16V, 1206 15μF/10V, 1210 22μF/16V, and 2312 47μF/16V with an operating temperature of +105°C at rated voltage and a maximum category temperature of 150°C at 50% of rated voltage. They have a conventional MnO2 cathode, which is characterized by low leakage current, do not exhibit capacitance loss with applied voltage (voltage coefficient) or capacitance loss over time, as respectively seen in Class II MLCCs and aluminum electrolytic capacitors, and are ideal for use in the secondary power lines of automotive electronics applications including: engine and transmission control units, integrated starter generators, headlamps, and brakes, as well as in industrial applications.
"Our new F9H Series J-lead tantalum capacitors provide the highest available capacitance for high-temperature automotive applications in a miniature case size, in addition to reliability performance two times better than standard AEC-Q200-compliant tantalum series," said Allen Mayar, product marketing manager, AVX.
F9H Series capacitors are also lead-free compatible and RoHS compliant. Lead-time for the series is currently 8–10 weeks.
Click HERE to learn more.
About AVX
AVX Corporation is a leading international manufacturer and supplier of advanced electronic components, interconnect, sensing, control, and antenna solutions with 29 manufacturing facilities in 16 countries around the world. AVX offers a broad range of devices including capacitors, resistors, filters, couplers, sensors, controls, circuit protection devices, connectors, and antennas. The company is publicly traded on the New York Stock Exchange (NYSE:AVX).
AVX Corporation
One AVX Boulevard
Fountain Inn, S.C. 29644
P: (864) 967-2150