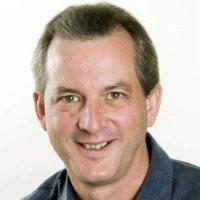 World-leading autonomous delivery van (ADV) company Udelv has announced the appointment of Russell Burke as its CFO.
Burke joins Udelv with more than 20 years of finance and strategy experience, having held C-level executive roles at companies including Sony Music, Napster, Weight Watchers and most notably Magic Leap, where he was responsible for helping the startup through its initial growth phase to raise over $500 million in capital.
Burke has been appointed to lead Udelv's financial strategy as it enters an aggressive growth and scaling stage to meet a full run of orders for 2019.
Commenting on the appointment, Udelv CEO Daniel Laury said: "We are honored to have Russell join our company. His experience in driving the financial strategy, scaling for hypergrowth and raising large rounds of funding for innovative companies comes at a time when Udelv is entering a new phase of development with its second generation vehicle and a series of new contracts to fulfill".
On his vision for high role at the company, Burke said: "I witnessed first-hand at CES the excitement around autonomous vehicles and more importantly the impact of the real world experience of Udelv with automonous deliveries, along with the impact of the partnerships with Baidu and Walmart. I am very happy to be joining the clear leader in the field, and looking forward to helping to scale the company as it creates positive disruption and significant value in e-commerce fulfillment".
Udelv's first generation ADV model has demonstrated impressive results, having successfully completed over 1200 deliveries on public streets in the San Francisco Bay Area for multiple clients.
Udelv has generated considerable interest from a variety of companies, including Walmart in Arizona and Texas' auto-parts supplier XL Parts (who delivers up to 15,000 parts per day in the Houston area), as well as the likes of San Francisco online grocer Farmstead, not-for-profit meal delivery organization Second Harvest Food Bank and Bay Area-based Draeger's Market.
About Udelv: Enabling E-Commerce
Udelv is revolutionizing transportation with its Autonomous Delivery Van (ADV), built specifically for last and middle-mile delivery on public roads. Founded in California in late 2016 by Daniel Laury and Akshat Patel, Udelv is on a mission to reinvent delivery and shape the future of autonomous driving.
In January 2018, Udelv successfully accomplished the first ever autonomous delivery on public roads. Since then, Udelv has completed more than 1200 deliveries for multiple merchants in the San Francisco Bay Area and is rapidly expanding in several other states.