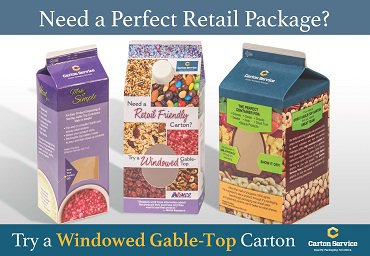 Carton Service CSi, LLC and NiMCO Corporation are pleased to announce that a gable-top demonstration carton with a see-through window will be running live on NiMCO Equipment at Pack Expo International (#packexpo), Booth 1514 at McCormick Place in Chicago on October 14-17, 2018.
Click HERE to view sneak peak.
According to Carton Service Company President Reid Lederer, "Our customers have been looking for a windowed gable-top carton for a while. And now thanks to a patent pending process, we can deliver on their request. We know that consumers want to see the contents of their packaged retail products – these new packages make that possible. We encourage all interested folks to come by the NiMCO booth at the event and get a sample."
Ideal for food products as well as health and beauty products, gable-top cartons fit nicely on retail shelves with generous billboard space for branding and messaging. These cartons are also available with even more features for higher impact on the retail shelves. "If you can dream it, we can help you produce it," says Company VP of Business Development Scott Garverick. Mockups for customers making retail presentations are always available from the Carton Service Creative Services Team.
About Carton Service
Carton Service CSi, LLC has been delivering folding cartons via offset and flexographic printing since 1926. Competitively serving small-to-large quantity runs, Carton Service maintains expertise in: UV printing and UV coating production, in-line vision systems, quality operating system procedures, and specialty converting applications such as security tags, milk and foil stock converting, embossing and direct contact food carton production. Carton Service has in house design & packaging structure teams to help you get your product to market and all services are conveniently under one roof for better control of quality, competitiveness & responsiveness for your supply chain. 
Carton Service, Inc.
First Quality Dr. and 2 Franklin Ave.
PO Box 702
Shelby, OH 44875
P: (800) 533-7744