Liquid or powder filled pouches and a wide variety of film packaging are easily "thrown off" in packaging lines if the vacuum cups used are not optimally matched to the application. The FIPA two-component bellows vacuum cups in the SV-BG series prevent the bags from being torn off thanks to an optimised design.
A soft, conformable sealing lip in 40° Shore A ensures the best possible sealing, even on pouches with strong wrinkle formation. The non-detachable vulcanised, robust bellows area made of silicone in 70° Shore A ensures the best possible stability and ideal hold for short cycle times as well as high accelerations.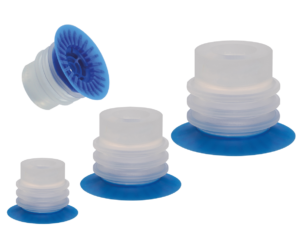 FIPA offers the new bellows vacuum cup with 3.5 folds (SV-BG3) and with 5.5 folds (SV-BG5) in diameters of 30, 40 and 50 mm. The compact design with 3.5 folds allows fast cycles. The design with 5.5 folds absorbs shocks and vibrations and adapts optimally to inclined surfaces. Which vacuum cup design is more suitable in each case depends on the application in the packaging industry. The decisive factors are the material, the content and filling level of the film packaging as well as the size of the acceleration. The bellows vacuum cups must always be used in conjunction with a move-in guard to prevent the film packaging from being drawn in. FIPA offers a curved move-in guard for soft packaging materials and a flat one for more stable packaging materials.
Two-component bellows vacuum cups at a glance:
Best possible sealing: Perfect for bags with strong wrinkle formation
Short cycle times: Bellows area made of silicone in 70° Shore A remains stable during high acceleration
Compact design: Version with 3.5 folds for fast cycles
Absorbs shocks: Version with 5.5 folds for bags with liquids