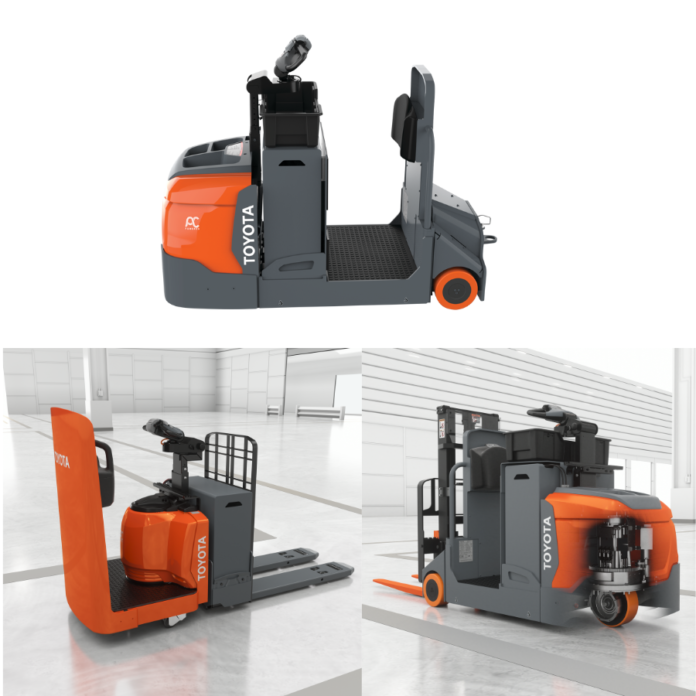 Toyota Material Handling, the industry leader in material handling innovation, is launching three new electric forklift models, adding to the company's industry-leading lineup of material handling products and solutions. The new electric product launch features a Side-Entry End Rider, a Center Rider Stacker, and an Industrial Tow Tractor, offering customers access to next-level efficiency, versatility, and best-in-class performance that prioritizes operator comfort.
"Toyota's culture is built on the guiding principle of kaizen, or continuous improvement. The drive to continually improve permeates every facet of our company, from the broad range of products we manufacture to our unwavering commitment to provide our customers with the smartest and most reliable solutions available in the material handling industry," said Jaksa Pejnovic, Toyota Material Handling Vice President of Sales & Marketing. "We believe these new Toyota electric products will help customers get even more efficiency and productivity out of their operation."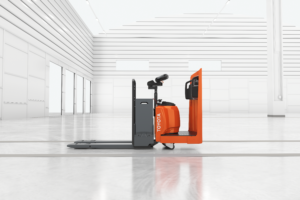 The new electric Side-Entry End Rider, available in both 6,000 and 8,000-pound models, is perfect for cross-warehouse transportation and order picking, increasing uptime while reducing energy costs with a host of features, including an automatic parking brake and standard power steering. This product offers operators a forward-facing position with a clear line of sight when picking and placing loads and features a unique multifunction ergonomic control handle. Operators will also experience best-in-class turning radius and speed reduction during turns, making it easier to transport loads when cornering, ideal for a combination of applications. The Side-Entry Rider features quick access to the operator compartment from either side of the truck to ensure smoother operation.
The innovative three-in-one design of the new electric Center Rider Stacker offers optimal versatility, capable of performing the work of a center rider, order picker, and counterbalanced forklift all in one. With a lift capacity up to 2,500 pounds and lift height up to 72 inches, the Center Rider Stacker delivers the ultimate utility and value, offering lower labor, operational and equipment costs with increased productivity. The equipped ergonomic multifunction control handle and optional additional controls integrated into the backrest simplify operation and prioritize operator comfort. The center rider chassis allows operation in narrow aisles, on trailers, and it excels at long runs, staging and cross-dock work.
With an impressive towing capacity of 15,000 pounds on flat surfaces, the new electric Industrial Tow Tractor is equipped with standard electric power steering to provide operators with effortless steering, improved ergonomics, and unmatched control. This tugger features an AC Drive Motor to provide the power needed to accomplish daily tasks and is designed to meet the needs of customers who are looking to get more done per trip.
Additionally, the Industrial Tow Tractor includes regenerative plugging, which not only reduces energy costs but results in increased efficiency and productivity shift after shift. The ergonomic design of this power player features an operator compartment sensor to encourage the operator to stand in the proper place for maximum comfort.
"Warehouses and distribution centers everywhere need material handling equipment that can help them keep pace with the speed of commerce," said Tony Miller, Toyota Material Handling Senior Vice President of Engineering, Operations, and Strategic Planning. "Our customers have been asking for specific and sustainable solutions that get the job done. By adding these new models to Toyota's expansive and growing lineup of electric products, we are in a position to lift up customers with the material handling solutions they need to be successful in today's demanding market."
The Industrial Tow Tractor and Center Rider Stacker are compatible with Toyota Lithium-Ion Batteries. All three new Toyota electric models offer optional features, allowing customers to customize orders to meet their unique needs, such as cold storage conditioning or PIN code access for enhanced security.
About Toyota Material Handling
Toyota Material Handling offers material handling products and solutions, including forklifts, reach trucks, order pickers, pallet jacks, container handlers, automated guided vehicles, and tow tractors, along with aerial work platforms, fleet management services, and advanced automation engineering and design. Toyota's commitment to quality, reliability and customer satisfaction, the hallmark of the Toyota Production System, extends throughout more than 230 locations across North America. With access to an industry-leading lineup of material handling products, Toyota dealers are uniquely positioned to help solve wide-ranging challenges in warehousing and distribution. Built for every application, Toyota can provide the most complete set of solutions for material handling, automation, energy, advanced logistics, and warehouse optimization.