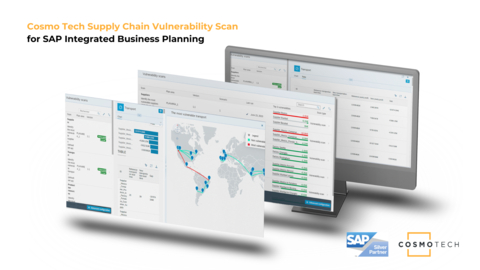 Cosmo Tech
 announced that its Supply Chain 
Vulnerability Scan
 is now available on the 
SAP
®
 Store
, the online marketplace for SAP and partner offerings. This AI-Simulation add-on integrates with 
SAP Integrated Business Planning
 software and delivers supply chain resilience at all levels of planning to customers.
"With the Cosmo Tech Vulnerability Scan, said Hugues de Bantel, Co-Founder and CEO of Cosmo Tech, SAP IBP customers not only have an overall supply chain plan but they also know where it will break in case of disruption and how to minimize risks and costs. This is a transformational solution to navigate supply chain complexity and uncertainty, delivering increased value to clients and maximizing profitability. The resulting robust supply chain is a huge competitive advantage for our customers."
Supply Chain Vulnerability Scan is powered by goal-seeking AI Simulation of the end-to-end supply chain. With this add-on, SAP IBP customers now can:
Identify top vulnerabilities in the supply chain (resources, operations, transport…)
Automate thousands of simulations to get optimal mitigation plans
Minimize revenue at risk based on prescribed actions.
Cosmo Tech Supply Chain Vulnerability Scan is available on the SAP store and will be presented on July 25-26 in Newtown PA during SAP Digital Supply Chain Planning Info Days.
The company is teaming with Accenture, its preferred global systems integrator, to bring the Supply Chain Vulnerability Scan to SAP Integrated Business Planning customers globally for improved supply chain resilience.
The SAP Store, found at store.sap.com, delivers a simplified and connected digital customer experience for finding, trying, buying and renewing more than 2,300 solutions from SAP and its partners. There, customers can find the SAP solutions and SAP-validated solutions they need to grow their business. And for each purchase made through SAP Store, SAP will plant a tree.
Cosmo Tech is a partner in the SAP PartnerEdge® program. The SAP PartnerEdge program provides the enablement tools, benefits and support to facilitate building high-quality, disruptive applications focused on specific business needs – quickly and cost-effectively.
Cosmo Tech provides AI Simulation and digital twins for enterprise decision making. Decision makers use Cosmo Tech software, powered by goal-seeking simulations generated from a 360° twin of their organization to navigate through complexity and uncertainty. They can either test the impact of a disruption, a decision, or set target performance indicators to find the best path out of millions of possible futures. Leading companies from the manufacturing, automotive, energy, and transport sectors rely on Cosmo Tech's combined predictive and prescriptive capabilities to anticipate what's coming and confidently optimize operations, improve profitability, build resilience and sustainability.
Visit our Ecards section: