The Oregon Manufacturing Innovation Center Research and Development (OMIC R&D) recently welcomed Sumitomo Electric Carbide, Inc. as its 30th member. Sumitomo, whose U.S. subsidiary is headquartered in Chicago, also has other several other U.S. based cutting tool manufacturing facilities, and its main headquarters is in Hyogo, Japan. It is one of the largest carbide manufacturers in the world and has operated in the U.S. since 1979.
Sumitomo Electric Carbide, Inc. (SCI) is known for its development and manufacture of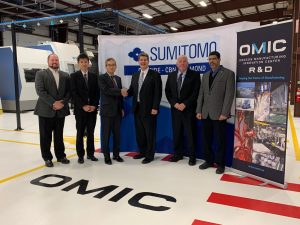 cemented carbide, CBN and sintered diamond cutting tools, wear-resistant tools and their materials, laser optics for laser processing machines and diamond products for electronics parts.
Craig Campbell, executive director of OMIC R&D said, "Sumitomo shares OMIC R&D's desire for active and engaged members. They are known to have a technology first mentality and they bring unique solutions to the discussion that will help us solve industry's machining challenges. Sumitomo possesses an energy and excitement that fits very well with our hands-on approach to solving problems."
SCI's mission includes providing superior products, technologies, and services to satisfy various customers on the global market; and realizing sustainable growth through innovative and advanced technology development. They currently have about 4,000 employees worldwide.
Kazuyoshi Kimura, president of Sumitomo Electric Carbide, Inc. stated, "I am very excited that Sumitomo Electric Carbide, USA, has now become a member of OMIC R&D, as this collaboration aligns well with Sumitomo Electric Hardmetal R&D in Japan, our parent company. Sumitomo development and innovation of high performance cutting edge material technology through powder metallurgy and super high pressure techniques will contribute in the innovation of manufacturing technologies through the activities at OMIC."
Sumitomo Electric Carbide joins twenty-nine other OMIC R&D industry and university members in this unique collaboration: Absolent; ATI; Blount; Boeing; Caron Engineering; CG Tech; Cobot Team; Daimler Trucks North America; HAIMER; Hangsterfer's Laboratories, Inc.; IMCO; IMS Software International; Kennametal; Mitsubishi Materials Corporation; Oregon Institute of Technology; Oregon Manufacturing Extension Partnership; Oregon State University; OSG USA, Inc; Portland General Electric; Portland State University; Sandvik Coromant; Schaeffer's; Seco Tools; Silver Eagle Manufacturing; Sugino; Vigor; Walter Tools; WFL Millturn Technologies; and ZOLLER Inc.
About the Oregon Manufacturing Innovation Center Research and Development
OMIC R&D is a world-class collaborative environment bringing together industry, higher education and government in partnership to develop new tools, techniques and technologies to address near-term manufacturing challenges through applied research and advanced technical training. OMIC R&D is modeled after the University of Sheffield Advanced Manufacturing Research Center (AMRC) in partnership with Boeing in Sheffield, England. The OMIC R&D collaborative partnership is located in Scappoose, Oregon in a facility owned and administered by the Oregon Institute of Technology (Oregon Tech).
About the Sumitomo Electric Carbide