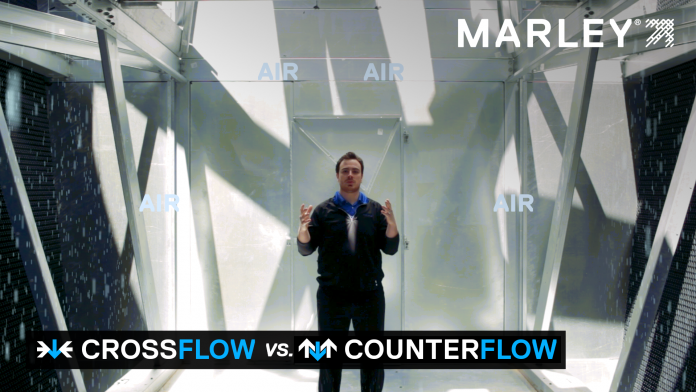 SPX Cooling Technologies, Inc., a full-line, full-service industry leader in the design and manufacture of evaporative cooling towers and air-cooled heat exchangers, announces the release of a video comparing the two fundamental types of cooling towers – crossflow and counterflow – and the characteristics of each type that may meet requirements for a specific application.
The video utilizes animation to explain how crossflow and counterflow towers are primarily differentiated by the direction of the air movement, and how it interacts with the process water being cooled. In a crossflow tower, air travels horizontally across the direction of the falling water. In a counterflow tower, air travels in the opposite direction, counter to the direction of the falling water. The two types of towers also have different space considerations, maintenance processes and water quality requirements.
The video also explores advantages of crossflow versus counterflow cooling towers. Crossflow cooling towers typically have larger doors for easier access to the tower, variable flow conditions that help the tower perform under cold weather conditions, and integral louvers that help maximize water containment. Counterflow cooling towers offer a smaller footprint, lighter operating weight, and a wider range of heat transfer (fill) media types to address varying sources of cooling water – from clean to dirty.
Click HERE to watch additional videos on cooling tower basics and maintenance techniques.
About SPX Cooling Technologies, Inc.
SPX Cooling Technologies, Inc. is a leading global manufacturer of cooling towers, evaporative fluid coolers, evaporative condensers and air-cooled heat exchangers providing full-service cooling solutions and support to customers in the heating, ventilation and air conditioning (HVAC), industrial, refrigeration and process cooling markets for nearly a century. SPX Cooling Technologies and its product brands are part of SPX Corporation.
About SPX Corporation
SPX Corporation is a supplier of highly engineered products and technologies, holding leadership positions in the HVAC, detection and measurement, and engineered solutions markets. Based in Charlotte, North Carolina, SPX Corporation had approximately $1.4 billion in annual revenue in 2017 and more than 5,000 employees in about 15 countries. SPX Corporation is listed on the New York Stock Exchange under the ticker symbol "SPXC."