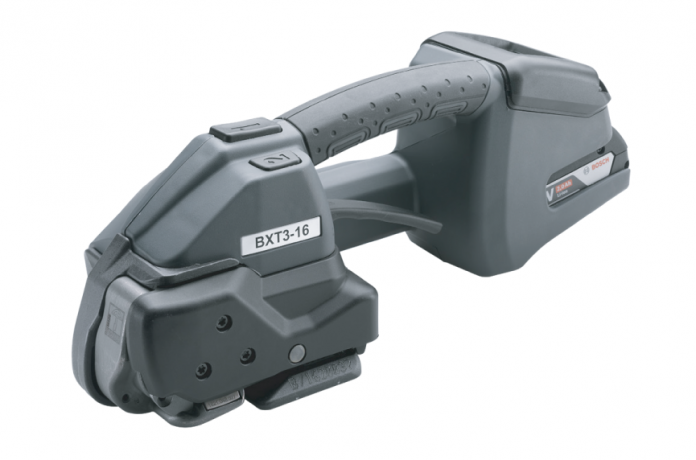 Signode Packaging Systems, a global leader in the manufacturing of steel and plastic strapping materials and equipment and part of Signode Industrial Group, introduces the BXT3 Plastic Strapping Tool at Modex 2018 in Atlanta, GA at booth #B3275.  Boasting a lightweight and balanced design, the drop, dust and moisture-proof tool is easy to assemble and disassemble and features a full touch, 3 color display. The BXT3 is perfect for all types of applications, including heavy-duty applications requiring high tension force and extremely rough and tough environmental conditions as well as sensitive, light-duty applications requiring soft tensioning and small and thin straps.
The BXT3 is the world's first strapping tool with a number of important features including; real-time indication of tension force, variable tension speed, strap alignment indication, three color information display and acoustic signal.  A quicker and simpler operation than comparable tools, the BXT3 is perfect for various recurring packaged goods with different setting requirements. The tool is also equipped with the ability to switch between standard and favorite settings, including tension force, welding time and operating mode.  "We are thrilled to introduce the Signode BXT3 at Modex 2018," says JR Stanley, Market Segment Manager, Signode Packaging Systems.  "We listened closely to what customers wanted from a strapping tool and developed this product to meet the various requirements in a wide range of industries.  The tool has a lot of unique and powerful features that are perfect for nearly every application."
Superior serviceability is also a unique benefit of the BXT3 with easy access to the tool components and quick assembly and disassembly, including a strap dust blow through vent.  All Signode equipment is supported by its own technical and engineering resources, equipment safety training and maintenance and repair services.
About Signode Packaging Systems
Part of Signode Industrial Group, Signode Packaging Systems is a global manufacturer and supplier of plastic and steel strapping, strapping equipment, hand tools, and associated accessories.  Signode Industrial Group is a leading manufacturer of strap, stretch, and protective packaging consumables, tools, and equipment. The company is comprised of some of the packaging industry's best-known brands, whose products protect goods during manufacturing, transport, and warehousing.
About Signode Industrial Group
Signode Industrial Group is a $2.4 billion leading global manufacturer of strap, stretch, and protective packaging consumables, tools and equipment. The company's products protect goods during manufacturing, transport and warehousing. In some of the company's core consumable products, recycled materials are a primary feedstock. The company's history dates back to 1913 when the Seal and Fastener Company opened in Chicago. Today, the company sells products under a broad group of well-known brands and businesses, including Acme Packaging, Angleboard, Fleetwood, Haloila, Kiwiplan, Mima, Muller, Multi-Wall, Orgapack, Shippers Products, Signode and Strapex. For more information, go to Signode Industrial Group.