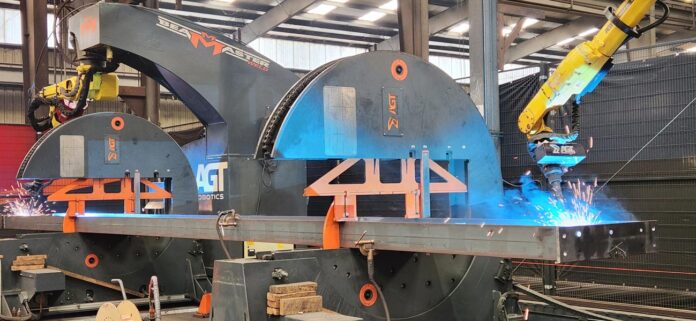 Schulte Building Systems, a leading commercial engineered metal building manufacturer, has announced the acquisition of its sixth BeamMaster robotic welding system, designed, built, and serviced in North America by AGT Robotics. The technology has already proven to be a game changer for Schulte, allowing them to increase production capacity, bid on more jobs, and win more business in the pre-engineered building market.
"Our current customers have been very pleased with the production increases they've seen from using the BeamMaster. They are now purchasing second or even third systems because of the positive impact it's had on their business," said Louis Dicaire, General Manager at AGT Robotics.
The BeamMaster system provides unequalled production efficiency and flexibility for structural steel fabrication, handling a wide variety of profiles and connections with payloads of up to 10,000lbs. As with previous purchases, Schulte has specified a dual-robot configuration, providing nearly double the throughput in the same floor space and further increasing their competitiveness in the market.
Mike Nesbit, Equipment Manager at Schulte, added, "The BeamMaster has significantly increased our welding capacity, which has been a huge benefit for us. We're able to complete jobs faster and more efficiently while reducing our reliance on skilled labor."
The BeamMaster is a highly sought-after technology used in the structural steel fabrication industry across the USA and the world. It can handle a wide variety of sizes and shapes of hot-rolled mill products as well as fabricated beams and columns – including tapered profiles.
Schulte's continued investment in the latest technology is an indication of their dedication to providing their clients with the highest quality service and products in the steel building industry. The acquisition of their sixth BeamMaster system is a testament to their commitment to stay ahead of the curve in the fabrication of structural steel.