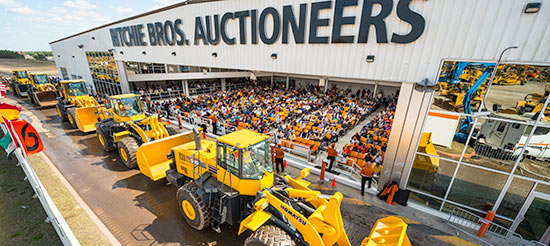 Ritchie Bros.' February Orlando auction is one of the most anticipated equipment events of the year, as thousands of people from around the world vie for the opportunity to purchase equipment from some of the most well-respected companies from the U.S., Latin America, Canada and abroad. Consignments are now being accepted for the massive, six-day 2019 event, being held on February 18 – 23.
"Our Orlando auction brings the onsite and online world together with huge local, national and international buyer participation, ensuring consignors get top dollar for their assets on auction day," said Jeff Jeter, President of U.S. Sales, Ritchie Bros. "Last year's Orlando event was the largest auction in our 60-year history, attracting more than 13,000 bidders from 90 countries, helping us sell more than 12,500 equipment items for a staggering US$278+ million."
Jeff Jeter continues, "We encourage companies interested in selling in the February 2019 Orlando auction to contact us early so we have as much time as possible to market their equipment to the world. With millions of visits to our websites monthly, no one can provide the global reach we can."
What customers can expect with the February 2019 Orlando auction:
Flexible contract options with full-service, turn-key selling
Certainty of sale and payment within 21 days of the auction
World-class facilities, incl. a 700-seat auction theater and onsite equipment refurb services
Large, well-organized yard to make onsite inspection easy and convenient for buyers
Comprehensive online equipment information with robust equipment descriptions and photography
Multiple ways for bidders to participate incl. onsite and online, via mobile or tablet with the Ritchie Bros. app
Onsite, dedicated financing support with Ritchie Bros. Financial Services, giving buyers more spending power.
About Ritchie Bros.
Established in 1958, Ritchie Bros. (NYSE and TSX: RBA) is a global asset management and disposition company, offering customers end-to-end solutions for buying and selling used heavy equipment, trucks and other assets. Operating in a multitude of sectors, including construction, transportation, agriculture, energy, oil and gas, mining, and forestry, the company's selling channels include: Ritchie Bros. Auctioneers, the world's largest industrial auctioneer offers live auction events with online bidding; IronPlanet, an online marketplace with featured weekly auctions and providing its exclusive IronClad Assurance® equipment condition certification; Marketplace-E, an online marketplace offering multiple price and timing options; Mascus, a leading European online equipment listing service; and Ritchie Bros. Private Treaty, offering privately negotiated sales. The company also offers sector-specific solutions including GovPlanet, TruckPlanet, Kruse Energy Auctioneers, and Cat® auctions, plus equipment financing and leasing through Ritchie Bros. Financial Services.