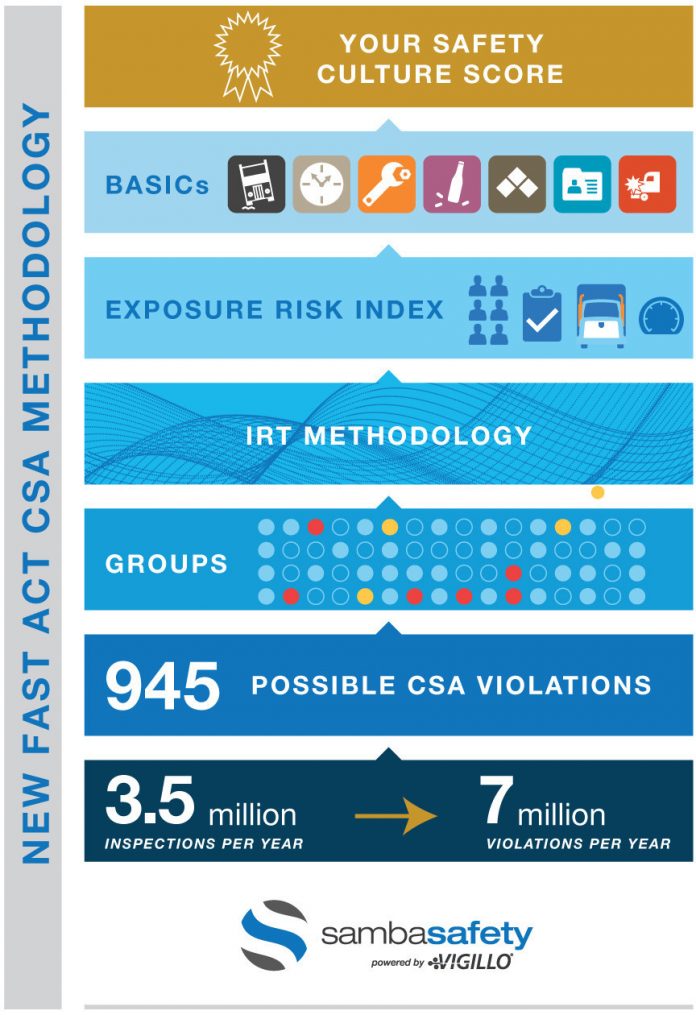 SambaSafety, Powered by Vigillo, a leading provider of driver risk management solutions in North America, announced today the development of a new CSA Scorecard. The company began testing the Item Response Theory (IRT) methodology for the CSA Fast Act Score Model two years before its planned release by the Federal Motor Carrier Safety Administration (FMCSA). The new SambaSafety CSA Scorecard powered by Vigillo has been in development for the past year and will soon be available to customers.
"When CSA was first being tested in 2008, Vigillo was the industry leader in analyzing what fueled CSA Scores and made the first CSA Scorecards available to the entire industry, nearly two years before the FMCSA program went live in December 2010," said Steve Bryan, executive vice president and GM of SambaSafety Transportation. "Today, SambaSafety is leveraging Vigillo's expertise to help customers understand the new CSA scoring model long before it will be released.
"We believe that FMCSA's approach utilizing the IRT methodology is moving in the right direction," Bryan continued. "Our analysis shows that the IRT model is an effective means of identifying a poor safety culture at motor carriers and will represent a significant improvement in the overall effectiveness of the CSA program.
"However, IRT is very complex and data intensive, and almost completely changes the building blocks of CSA," Bryan added. "There are no longer any violation weights, CSA Points, BASIC measures or Safety Event Groups. The new, single CSA BASIC Score is a very different way of representing the safety culture of a motor carrier. By helping our customers manage that process in advance of the full release, we are enabling them to look at the same data they will be seeing with the new scoring model."
Based on FMCSA's response to a report from the National Academy of Sciences (NAS) titled, "Improving Motor Carrier Safety Measurement" the proposed CSA FAST Act Score Model addresses recommendations made by the NAS for improvements to the agency's Safety Measurement System (SMS).
About Vigillo
Following its acquisition in 2017, Vigillo has been applying its established and proven technology for analyzing commercial driver and motor carrier safety performance at SambaSafety. Steve Bryan, the founder and former president of Vigillo and a widely recognized expert on CSA, is now serving as Executive Vice President and GM of SambaSafety Transportation. The combined capabilities of Vigillo's CSA diagnostic and management tools and SambaSafety's Driver Risk Management services provide customers with the ability to manage and track driver performance, mitigate high risk driver behavior and address driver safety throughout the entire employment lifecycle.
About SambaSafety
Since 1998, SambaSafety has been the pioneer and leading North American provider of cloud-based driver risk management software solutions for organizations with commercial and non-commercial drivers. Through the collection, correlation and analysis of driver information, SambaSafety helps employers identify high-risk drivers and enforce safety policies; insurers to make informed decisions; and background screeners perform accurate, efficient pre-hire checks.