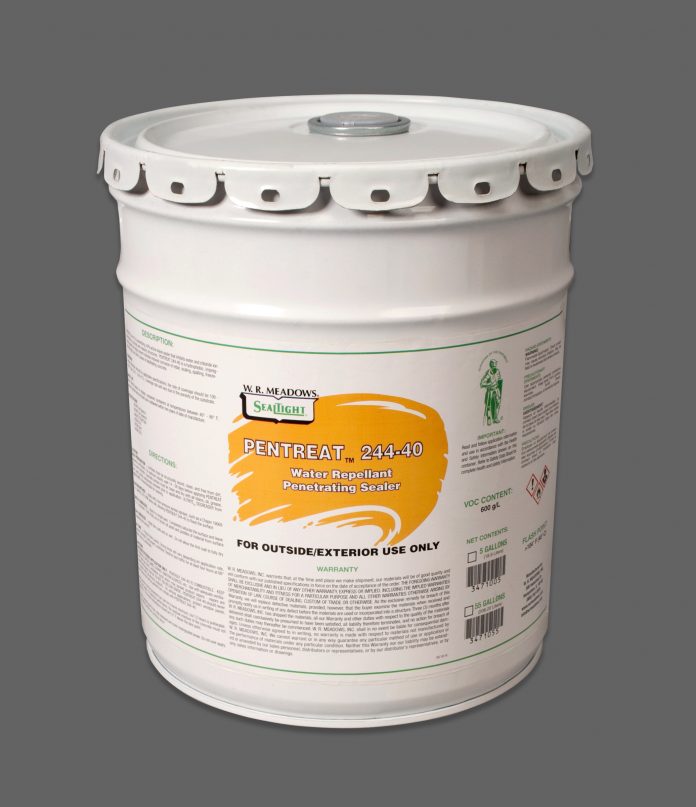 One of the leading causes of scaling, spalling, and freeze-thaw damage on concrete and masonry structures is unwanted water and salt penetration. PENTREAT 244-40 water repellant penetrating sealer from W.R. Meadows offers 40% active content silane to help reduce water and chloride ion infiltration.
This high performance, breathable, penetrating sealer is designed for use on horizontal and vertical, new and existing, concrete and masonry above-grade surfaces. PENTREAT 244-40 is ideal for use on parking structures, driveways, plazas, stadiums, bridge decks, piers, ramps and many other residential, commercial, industrial, and municipal project locations.
PENTREAT 244-40 chemically bonds to the substrate, reducing liquid absorption while allowing vapor transmission. In addition to being a superior water repellant sealer, PENTREAT 244-40 can help extend the life of treated surfaces while keeping the substrate cleaner. For areas with strict VOC regulations, PENTREAT 244-40 OTC is available.
"PENTREAT 244-40 is a new addition to our line of penetrating concrete and masonry sealers," says Anita Vuchkovska, chemist, W. R. MEADOWS. "The product is an excellent choice for hydrophobizating surfaces to reduce water and chloride ion ingress, and improve freeze-thaw damage."
About W.R. Meadows
W. R. MEADOWS, INC. designs, manufactures and markets high quality products and systems for today's construction professionals. Products are sold through our authorized distribution network. We have multiple branch locations throughout North America, and our products are available in overseas markets as well.
Our products cover every facet of the construction industry – from protecting and sealing concrete, expansion joints, and concrete restoration, to blocking the ingress of moisture through the building envelope, we're there.
We remain committed to producing high quality products and systems that meet or exceed the latest EPA standards and guidelines.
Continuity is the secret of our company leadership and success
We've been a family-owned and operated company, serving the needs of the concrete construction industry, since 1926.