Utilising their widely renowned, unique omni-wheel design, the company has created a range of applications for the conveyor transfer market, designed to improve productivity and reliability.
Using the OMNIA™ omni-wheel in conveyor transfers has many benefits over traditional rollers and ball transfer systems. The OMNIA™ omni-wheels offer full 360° manoeuvrability both as a manual and powered transfer table. They are are made from engineer grade polymers providing unrivalled durability and prolonged lifespan – critical for maintaining and increasing productivity levels in the manufacturing industry.
OMNIA showcased their new transposed automated transfer table at Modex 2020 last week which features:
Product direction/diversion through any angle across 180 degrees with a simple motor speed change.
Quick and easy to install.
Designed to be interchangeable with existing conveyor systems.
Reduced energy consumption/low voltage operation.
Low maintenance and manual intervention to increase productivity.
Maximum transfer rate of 30 parcels per minute (30kg at 100% drive rate).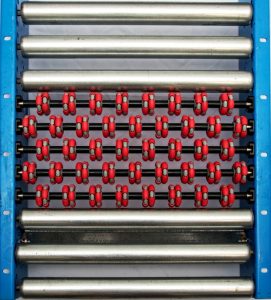 Another advantage of OMNIA's conveyor systems is scalability. Due to the modular nature of the units, transfer tables can be built to any size, length and width. Scalability also applies to load capacity. Due to the robust nature of the OMNIA™ omni-wheel, the company's conveyor tables are able to withstand and move much heavier loads than conventional conveyor systems.
OMNIA™ Operations and Engineering Manager, Dr. Jochen Werner commented on the tables' performance:
"We're really excited about the potential of these conveyor tables. We are constantly being asked by manufacturing companies for solutions to improve productivity. By using the capability of our omni-wheels, we have created a unique solution which does not only have superb functionality, but also easy to implement, have low maintenance and will therefore significantly improve production levels for our customers."
About Omnia
Omnia, a brand of Rotacaster Pty Ltd, has been creating innovative products since the launch of its Rotacaster™ omni-wheel in 2005. Other products include the Rotatruck(™), a self supporting, manual handling hand truck, whose ergonomic design has been proven to require 78% less effort in stepping up kerbs; reducing the potential for injury from heavy loads, improving safety and productivity.
Omnia
7 Enterprise Drive
Beresfield
NSW, 2322, AUSTRALIA
P: 1300 768 222 (AU)
P +61 2 4907 8100 (Int'l)