The new Combi-CB70E is a further addition to Combilift's ever growing range of electric models which offers powerful performance, extensive battery life and unrivalled ergonomics. This model, in the vibrant Combi-green livery first seen on the recently launched Combi-CUBE product, boasts the distinction of being the shortest 7t capacity counterbalance truck on the market whilst also benefiting from multidirectional ability, enabling the versatile space saving handling of both long and bulky loads.
Design features incorporated into the high-capacity Combi-CB70E such as its large super-elastic tyres and compact wheelbase make it ideally suited for the operational demands of the timber industry. With a 7,000kg/15,500lb lift capacity, this model benefits from an impressively small footprint as well as exceptional manoeuvrability meaning that it can easily move bulky loads of timber around in confined spaces.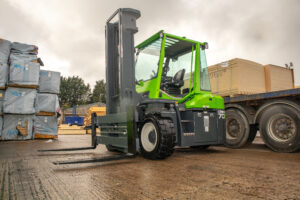 Occupational health and safety requirements mean that the welfare of the workforce has become ever more important over the years. Drivers of industrial vehicles, who are often required to spend extensive periods in their workstations, quite rightly expect the highest levels of comfort and safety. Combilift's designers have therefore gone to great lengths to ensure that the latest generation of models are kitted out with top quality components that ensure sophisticated ergonomics for a stress-free in-cab environment. Features in the spacious cab include generous glazing for excellent all-round visibility, the tilting steering column, hydraulic steering and the Grammer MSG65 seat.
What sets the Combi-CB70E apart from other forklifts is its gas strut suspension cab, which uses components such as those found in large scale industrial machinery with cab suspension. Combined with the super-elastic tyres this guarantees the smoothest of rides over uneven or less than perfect ground conditions such as those typically experienced in lumber yards.
Combilift's newly developed Auto Swivel Seat was also premiered at the Ligna show. This optional feature automatically engages and swivels the seat and armrest 15° to the right or left to accord with the direction of travel selected by the operator – reducing driver strain, particularly when travelling in reverse. (Patent Pending Application No. 2305983.5)
The truck also features Combilift's internationally patented and Red Dot awarded independent electric traction which provides all front and rear drive wheels with 100% traction control. This negates the need for differential lock on slippery surfaces and significantly reduces long load momentum twisting when travelling sideways. Each electric drive incorporates parking and regenerative dynamic braking for power efficiency. Roll-out access for major electrical components also simplifies maintenance tasks.
This mix of next-gen performance, extensive battery life and exceptional ergonomics combined with all the advantages of the Combi-CB range, makes this the most powerful compact electric multidirectional forklift to date.
Combilift CEO and Co-Founder Martin McVicar said: "The increased capacities that we are offering in our electric range will answer the demand for ever more powerful products which at the same time help companies to achieve their aims for more sustainable operations. We chose Ligna as the platform for launching the Combi-CB70E due to its innate suitability for customers in the timber sector, but we are confident that this model will be a popular addition to our portfolio for many other industry applications."