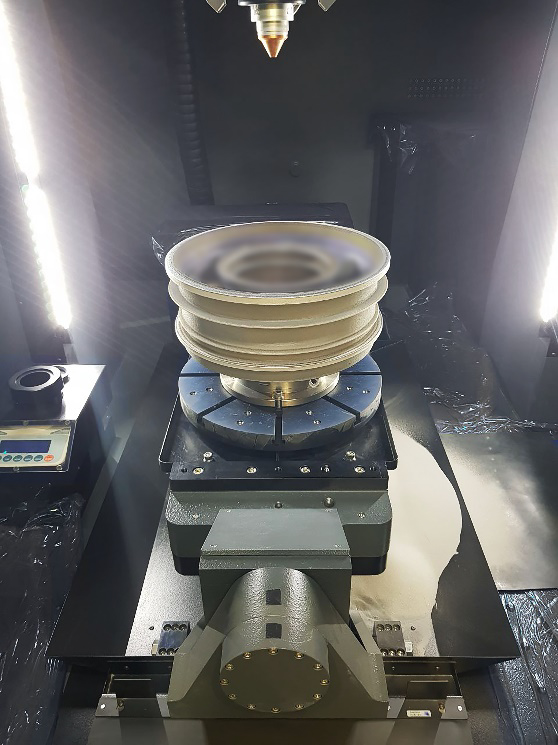 InssTek Inc. has integrated the ModuleWorks additive manufacturing calculation core into its DMT® (Direct Metal Tooling) technology. The innovative ModuleWorks software enables InssTek to use the multi-axis traversing capabilities of its DMT® machines to provide a fully automated, cost-effective solution for simultaneous 5-axis additive manufacturing and repairing of complex parts.
Delivered as a Rhino plugin, DMT® with the integrated ModuleWorks calculation core automatically generates a toolpath that uses the 5-axis motion capabilities of the machine to enable the production of parts with highly complex geometries. This means that these parts, e.g. guide vane rings, can be manufactured in a single, continuous production step. The additive toolpaths are collision-free and can be optimized via user-defined parameters to reduce residual stresses in the material.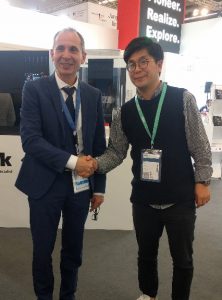 For optimal process safety, the integrated ModuleWorks simulation software checks for potential collisions between the component and print head. Printing errors can also be predicted and prevented. Custom tool profiles (e.g. powder nozzle, laser) provide application flexibility and the simulation generates an in-process model of material flow that can be used for subsequent processing steps.
The integrated high-performance ModuleWorks Post-Processor Framework (PPF) ensures that all the switching and laser commands are optimally adapted for the respective machine and streamed to the controller at a rate of over 50,000 path points/s without the need for further editing to provide a fully automated, cost-effective Direct Energy Deposition solution.
About ModuleWorks
ModuleWorks is the leading software component provider for the CAD/CAM industry. With over 170 employees and 800 man years of software development, ModuleWorks' expertise in toolpath creation and simulation is recognized throughout the industry and its software components are already optimizing the performance and quality of over 500,000 installed seats of CAD/CAM software around the world. From standard products to exclusive development projects, we work in close cooperation with you to bring your own vision of Industry 4.0 to life. Our comprehensive product portfolio and cutting-edge software components enable you to optimize your CAD/CAM solutions and connect to CNC/MTB systems to increase your competitiveness and help you Get There Faster.
Laser aided processes, especially additive processes, are shaping the future of manufacturing. ModuleWorks Laser-Aided Manufacturing is an advanced programming environment that combines all the benefits of the proven ModuleWorks technology with a comprehensive set of process-dedicated features for laser cladding, laser cutting and laser hardening.
ModuleWorks GmbH
Henricistraße 50
52072 Aachen, Germany
P: +49 241 9900040
About InssTek
InssTek are experts in DED (Directed Energy Deposition) in the 3D metal printing market. The company was established in 2001 for developing and commercializing metal 3D printing across the globe. InssTek has developed its own DED process named DMT (Directed Metal Tooling) which makes it easier to manufacture products with complex shapes and specific functions. The technology is classified as Directed Energy Deposition by ASTM standards.