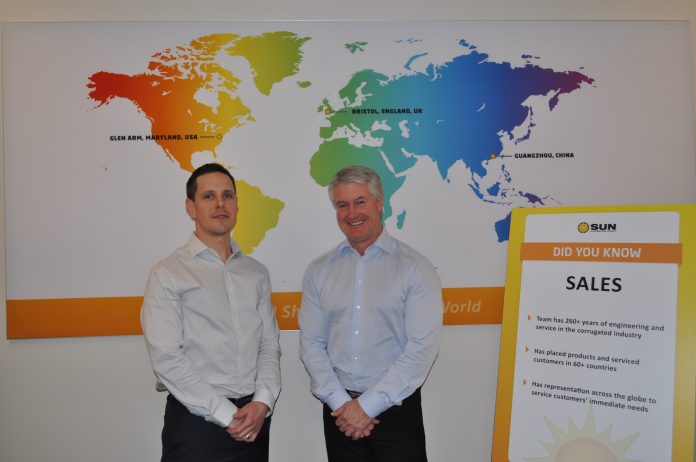 SUN Automation Group®, a leading global provider of innovative equipment to the corrugated industry, is pleased to announce Mikah Thorne, President of Canadian Corrugated Solutions and his experienced team will now represent the company and support its customers in Canada.
With over 25 years of experience in the packaging industry, Mikah and his team have developed expertise in automation within the corrugated and graphic industries. In addition to in-depth knowledge of processes and procedures, the team has cultivated an extensive network that has resulted in several successful partnerships with industry leaders, like SUN Automation Group, world-wide.
"Mikah and his team are the premier partner to have in Canada," says Greg Jones, Vice President of Global Sales and Aftermarket for SUN Automation Group. "They have a strong focus on the customer experience by providing top level expertise, service and support. This dedication to the customer really resonated with us and our own company culture of exceeding expectations and outcomes."
The new partnership will bring SUN's proven innovative corrugated solutions to the Canadian market and provide customers with the exceptional customer-focused service and support SUN is known for.
"My team and I are thrilled to partner with a company that has such an extensive product range, excellent reputation for quality and most importantly, the highest level of commitment to customer service and support," says Mikah Thorne, President of Canadian Corrugated Systems. "We are looking forward to working together to help companies achieve greater quality and efficiency through innovative corrugated solutions."
About SUN Automation Group®
SUN Automation Group® is a global industry leader providing corrugated box plants with innovative equipment for feeding, printing and converting. The wide range of products are proven solutions for increasing production, efficiency, and profitability. With 24/7 on-site technical support, SUN Automation is known for its exceptional service and care. Headquartered outside of Baltimore, MD, SUN Automation has service centers around the globe.
SUN Automation Group
Glen Arm, MD 21152
P: 410-472-2900