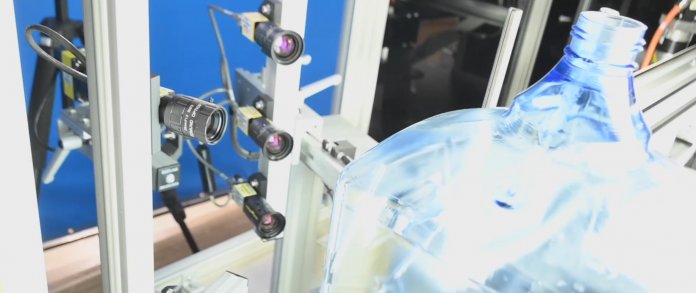 Norwalt, a specialist in custom-built automation and line integration machinery for complex manufacturing applications, has engineered one of its most sophisticated bottle vision inspection systems to date. The company's Vue Inspection System integrates standardized vision components with custom-made elements and deep learning tools.

Norwalt's new machine has one overarching, pioneering benefit: its ability to monitor gaging defects as miniscule at 10 thousandths of an inch on a translucent surface. It accomplishes this by using shape transformation on the sloped areas of bottles.
The Vue Inspection System was concepted, designed, and engineered in Norwalt's dedicated Vision Systems Lab. Outfitted to accommodate up to eight programmers simultaneously, the state-of-the-art facility incorporates next-gen visual inspection and deep learning tools, including emerging Artificial Intelligence (AI) vision innovations and 3D profiling. Norwalt also integrates advanced optical character recognition (OCR) and verification via optical character verification (OCV).
With the Vision Systems Lab, Norwalt also designs machines that utilize closed-loop data for machine adjustments and continuous production improvements. The lab also provides gage repeatability and reproducibility (GR&R), and Type One studies when needed, as well as full evaluation of a project's field oriented control (FOC).
"Norwalt is increasingly committed to enhancing our vision capabilities, and as industry demand increases, we're seeing an increasing number of requests for our advanced and more sophisticated systems," said Keith Harman, Director of Business Development & Technical Sales for Norwalt.
About Norwalt
For more than five decades, Norwalt has specialized in custom-built automation and line integration machinery for complex manufacturing applications. The company's engineers design, construct, validate and install premium production equipment for a wide array of sectors, including medical devices, life sciences, food & beverage, personal care, and household items. Norwalt produces machinery meeting a broad range of functionalities – from packaging and product assembly and post-mold automation to modular automation cells and robotics systems. Many customers rely on Norwalt's vision system experience enabling them to incorporate highly technical vision systems, both stand alone and integrated, to ensure accuracy in a wide range of applications.
Often, Norwalt's unique-to-customer solutions comprise intricate, low- to high-volume machinery and robotics designed from proof of concept, many of whose capabilities have never been attempted let alone realized. Always, its equipment provides maximum efficiency and minimal downtime backed by the company's unsurpassed, engineering-centric customer service and support.
Visit our Ecards section: