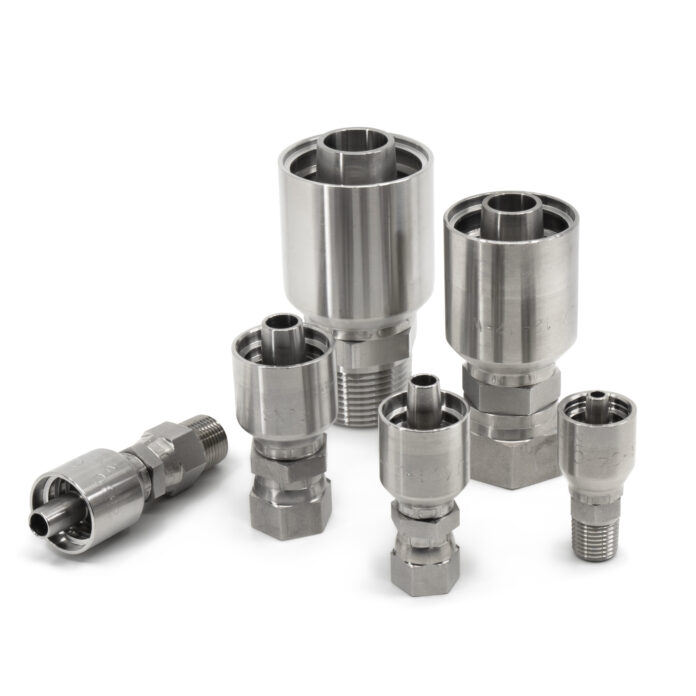 Kurt Hydraulics has introduced a new lineup of stainless-steel couplings for applications ranging from marine hydraulics to food production and medical processes to fertilizer and chemical handling or other tough applications requiring wash downs.
Kurt Hydraulics stainless-steel couplings are manufactured from high carbon grade 316 SS with high nickel and chromium content, which provides resistance to chemical attack and corrosion, along with extreme durability compared to standard steel. Kurt stainless steel couplings meet or exceed SAE specifications and are U.S.C.G. accepted.
Available fitting styles include Female Straight Swivel, 37o JIC Female 90 o Bent Tube Swivel, 37o JIC Female 45o Swivel, Male Pipe NPTF Rigid, Male Pipe NPTF Swivel. These coupling are designed to work with Kurt hoses including:
Kurt Tuff & EZ-Bend hoses
Kurt Marine hoses (KEH & KHT)
1-wire braided hose (R1, R17)
2-wire braided hose (R2, R16, R17, KT)
All size R12 non-skive (6-32)
4SH non-skive (12-24)
Kurt Pressure Wash hose
Kurt Hydraulics offers a wide variety of in-house manufacturing services to create a full line of hydraulic hose couplings. With the capacity for tube bending, tube flaring, welding, crimping, fitting assembly, braising and plating, Kurt is the only manufacturer in the United States that can perform all these operations under one roof, allowing industry-leading customer service and competitive pricing.
About Kurt Hydraulics
Kurt Hydraulics is 100% employee-owned and a division of Kurt Manufacturing Company based in Minneapolis, MN. Operating in a state-of-the-art facility with multiple workstations, production lines and integrated automation with marketing, design, engineering, production, assembly and shipping all on site, employees own the manufacturing process from start to finish.
What makes Kurt Hydraulics different? It starts with what we put into our products, passion that leads to profound pride, and the endless desire to deliver perfection on time, every time. We know you deserve and demand our very best. That's why we'll never settle for good enough. Kurt has been a U.S. manufacturer of hydraulic couplings and
systems for over 35 years. We offer a full line of hydraulic couplings and a complete line of high-quality hydraulic hose tested beyond SAE specifications. Kurt Hydraulics' hose and couplings are sold through a comprehensive network of distributors in North America.
Visit our Ecards section: