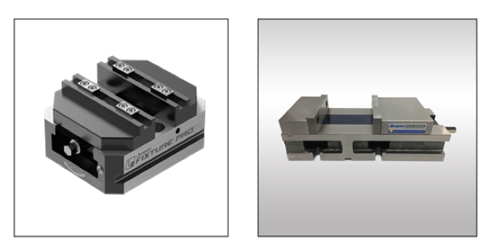 Jergens Inc. introduces two new vises to its range of quick-change workholding systems – a 130mm self-centering vise and a new narrow vise. Both vises offer numerous features and provide reliable performance for general purpose machining.
The 130mm self-centering vise – part of the Fixture Pro® line of modular five-axis workholding – features a pull-down jaw design to actively reduce jaw lift caused by flex and raising up during the clamping process. The unique vise has an easy centering / re-centering adjustment and quick-change jaws that require no tools. Jaws are reversible and available in step jaws with serrated inserts, aluminum soft jaws, steel soft jaws and hardened step jaws.
Versatile mounting options are compatible with several Jergens platforms including Fixture Pro®, Drop & Lock™, Quick-Loc™, Lang Quick Point® and 5th Axis RockLock™. Maximum clamping force is 3,600 lbs @ 50 ft*lbs. In combination with the full-line of Quick Loc™ pallet systems, the new vise offers versatility and quick-change on vertical, horizontal and multi-axis machining centers.
Jergens new narrow vise is ideal for mounting to Jergens Ball Lock® fixture plates to provide solid performance in numerous general-purpose applications. The single station vise features a cast iron base and interchangeable jaws (common industry styles). Made in the USA, it weighs 70 lbs. and includes the handle.