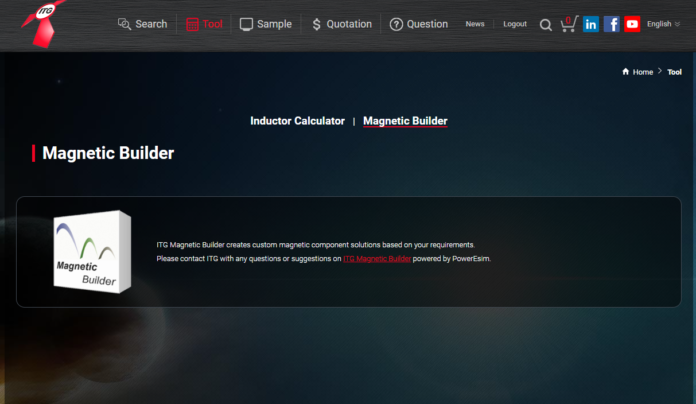 ITG Electronics, a leading manufacturer of inductors and transformers since 1963, has revamped its www.ITG-Electronics.com website with a bevy of user-friendly new features. Highlighting the offerings is Magnetics Builder, a tool that automatically builds custom-designed magnetic solutions based on individual customer specifications.

ITG Electronics' new Magnetics Builder tool can be accessed through a free, straightforward site registration. From there, simulation software guides an intuitive, step-by-step process that results in tailored magnetics transformers and inductors for a wide variety of power conversion topology applications.

The refreshed site also incorporates a new learning tool. Dubbed ITG Academy, the section offers a series of video presentations providing accessible yet in-depth information on several industry-relevant topics. Available presentations include those addressing magnetics, EMI Filters, and common mode coils. ITG Electronics plans to add to the learning center over time.

Finally, ITG Electronics' website also now features expanded language options. In addition to English, the site is available in German, Italian, Japanese, and two Chinese dialects.
ABOUT ITG ELECTRONICS INC.
Founded in 1963, ITG Electronics is a leading electrical and mechanical components supplier headquartered in Elmsford, NY. With a highly experienced engineering team, ITG designs and manufactures high performance magnetic components, modules and EMI filters for a wide range of applications including consumer electronics, automotive, cloud computing, telecommunication, industrial and renewable energy.
ITG factories are IATF/TS16949, ISO9000, ISO14000, OHSAS18000, QC0800000, ISO14064 Certified.