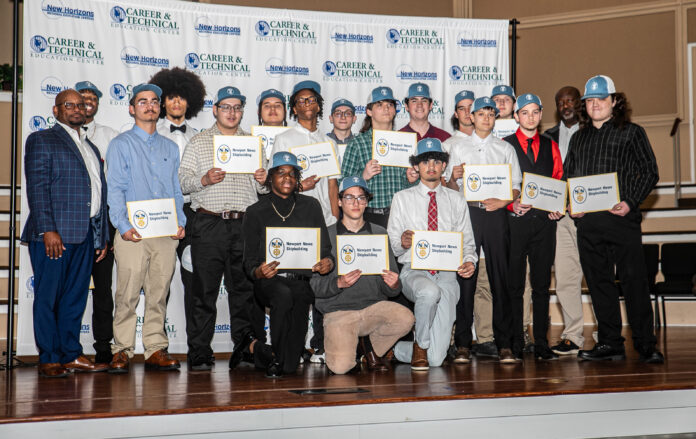 HII's (NYSE: HII) Newport News Shipbuilding division recently signed more than two dozen graduating high school seniors for careers in shipbuilding at the New Horizons Regional Education Centers (NHREC) Good Life Solution Program's Career Selection Day, at a time the shipyard is executing on orders for mission-critical aircraft carriers and submarines in service of the U.S. Navy and the nation.
A total of 32 students accepted employment offers from NNS: 20 who will begin full-time trade positions within the shipyard and 12 who will attend The Newport News Shipbuilding Apprentice School. Funded by HII to train and develop the next generation of shipbuilders, The Apprentice School offers four- to eight-year, tuition-free apprenticeships in 19 trades and eight optional advanced programs, to include accredited undergraduate degrees in engineering.

The Good Life Solution Program is a collection of partnerships between NHREC and local employers looking to improve the way they recruit, hire, train and retain entry-level new hires out of high school. The program has a one-year retention rate of 80%.

"Each year, this program grows and is a clear demonstration that there is more than one path to success," said Xavier Beale, NNS vice president of human resources and trades, who attended the event. "I'm honored to welcome these students into our shipbuilding family as they embark upon a remarkable journey. They will continue to develop their talents and grow their careers with us — all while serving our nation and building freedom."

NNS plans to hire approximately 2,500 skilled trade positions this year to meet the shipbuilding needs of the Navy. The shipyard anticipates hiring nearly 19,000 people within the next decade as it fulfills orders for the U.S. Navy.
About HII
HII is a global, all-domain defense provider. HII's mission is to deliver the world's most powerful ships and all-domain solutions in service of the nation, creating the advantage for our customers to protect peace and freedom around the world.
As the nation's largest military shipbuilder, and with a more than 135-year history of advancing U.S. national security, HII delivers critical capabilities extending from ships to unmanned systems, cyber, ISR, AI/ML and synthetic training. Headquartered in Virginia, HII's workforce is 43,000 strong.