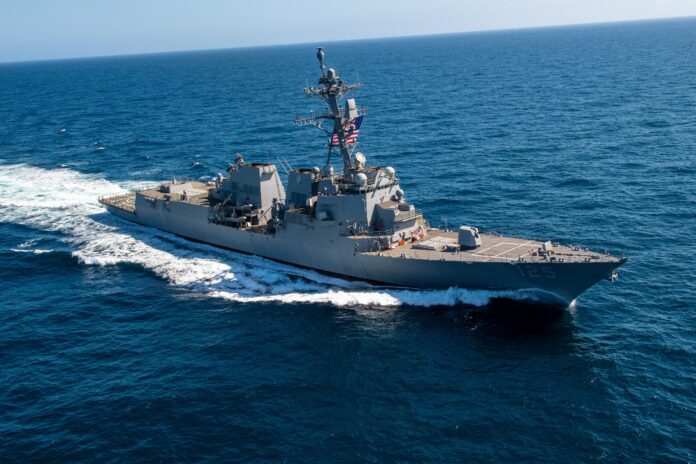 HII's (NYSE: HII) Ingalls Shipbuilding division announced today the successful completion of acceptance trials for Arleigh Burke-class guided missile destroyer the future USS Jack H. Lucas (DDG 125).
"Collaboration has been the single largest enabler to delivering this new capability to the fleet," Ingalls Shipbuilding President Kari Wilkinson said. "Our extended network of Navy, Ingalls and supplier partners got this done through open communication, hard work and tenacity."
Jack H. Lucas (DDG 125) is the first Flight III Arleigh Burke-class destroyer being built for the U.S. Navy by Ingalls and incorporates a number of design modifications that collectively provide significantly enhanced capability. DDG 125 contains a myriad of offensive and defensive weapons designed to support maritime defense needs well into the 21st century. Flight III configured destroyers include the AN/SPY-6(V)1 Air and Missile Defense Radar (AMDR) and the Aegis Baseline 10 Combat System that is required to keep pace with the threats of the future.
Ingalls has delivered 34 destroyers to the U.S. Navy, with five Flight IIIs currently under construction including DDG 125, Ted Stevens (DDG 128), Jeremiah Denton (DDG 129), George M. Neal (DDG 131) and Sam Nunn (DDG 133). The final Ingalls-built Flight IIA ship, Lenah Sutcliffe Higbee (DDG 123), sailed away from Ingalls in April and was commissioned this month in Key West, Florida.
Arleigh Burke-class destroyers are highly capable, multi-mission ships and can conduct a variety of operations, from peacetime presence and crisis management to sea control and power projection, all in support of the United States military strategy and the joint force. Guided missile destroyers are the backbone of the U.S. surface fleet and are capable of fighting multiple air, surface and subsurface threats simultaneously.
About HII
HII is a global, all-domain defense provider. HII's mission is to deliver the world's most powerful ships and all-domain solutions in service of the nation, creating the advantage for our customers to protect peace and freedom around the world.
As the nation's largest military shipbuilder, and with a more than 135-year history of advancing U.S. national security, HII delivers critical capabilities extending from ships to unmanned systems, cyber, ISR, AI/ML and synthetic training. Headquartered in Virginia, HII's workforce is 43,000 strong.