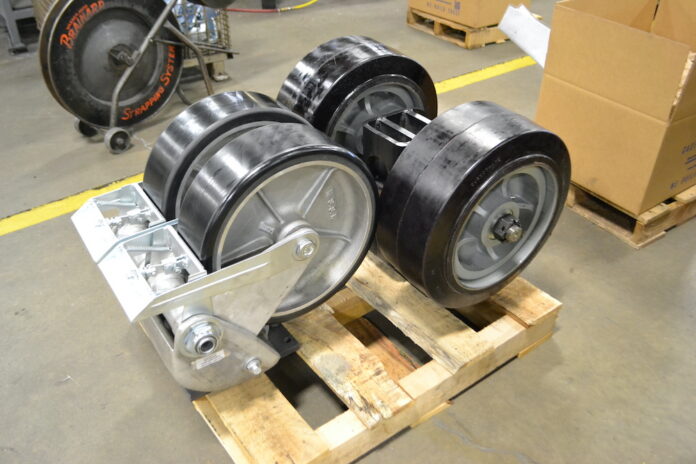 While most casters call for the might of steel and iron, at Caster Concepts Inc., we know that a great solution to moving and maneuvering heavy loads often requires the light touch of aluminum.
Beauty … and a Beast
Spring-loaded aluminum MS Casters offer unmatched performance and durability for challenging applications found in aerospace assembly, ground support activity, and the manufacturing of cars, trucks and SUVs. Despite being lightweight, MS aluminum casters support weight capacities of up to 25,000 pounds with dual-wheel offerings. These corrosion-resistant, durable casters are ideal for luggage carts, cargo haulers and aircraft maintenance stands.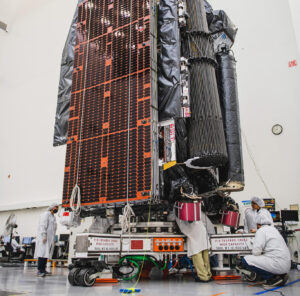 No Shakes, No Rattles, Just Roll
MS Casters absorb shock and vibration, reducing the risk of employee injury due to jarring and juddering. All MS Casters have a linear suspension system, which achieves optimal shock reduction and drastically reduces shimmy, dynamic bounce and resonance when the cart is empty or loaded beyond its rated capacity. Dual-wheel offerings feature an independent suspension that reacts to an obstruction on one wheel with little to no impact on the other wheel. This is due to each wheel having its own dual-wheel offerings with independent suspension that reacts to an obstruction, creating little to no impact on the other wheel. They're also tough: resistant to extreme temperatures, water and precipitation. We can't imagine a better caster for moving precious cargo on a tarmac or wheeling the next rocket into place. Take a look."Because the manufacturing process is highly specialized, Caster Concepts is the sole producer of aluminum casters for heavy industrial use," said Bill Dobbins, president of Caster Concepts. "We are fortunate to have the high-quality tools, materials, and talent to be able to design and manufacture these casters for our customers who need a level of quality that goes far beyond standard."
Designer Threads
Whether you need a particular mounting style, wheel material or brake configuration, you can find it. Each MS Caster is custom built and uniquely designed for specific applications and load capacities. And as casters go, they're also rather good-looking, especially when matched with a colorful array of made-to-order polyurethane wheels. They're also available with rubber and pneumatic wheels.
Got a custom job that needs the subtle power of an aluminum caster? MS Casters are now available for purchase on CasterConcepts.com
About Caster Concepts
Caster Concepts designs and builds industrial heavy-duty casters and wheels for virtually any application. Companies rely on Caster Concepts to help them increase productivity and reduce the risk of worker injury in heavy-duty applications. Our high-capacity casters feature load ratings that range from 300 pounds to over 100,000 pounds. At Caster Concepts, we also manufacture wheels to withstand impact, corrosion, temperature extremes and chemicals found in harsh industrial environments. Caster Concepts is ISO 9001-2015 certified and offers one of the industry's shortest lead times, making it the premier choice for many industries. The company was awarded the 2022 Corporate Impact Award by the state of Michigan.
Visit our Ecards section: