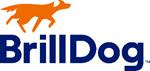 BrillDog, the only supply chain technology built for small-to-medium-sized businesses (SMB), today announces the general availability of its BrillDog Transportation Management System (TMS). The BrillDog TMS is available for immediate sale and implementation – and it's free! The TMS is part of the SaaS-based supply chain suite that BrillDog is delivering to improve the supply chain operations of SMBs.
"The BrillDog TMS will be available in three flavors, with the initial free version that we call FreeDog available today," says Sam Polakoff, CEO, BrillDog. "The BrillDog TMS is a cloud-based platform that automates and optimizes inbound and outbound freight across initially LTL modes nationwide, with additional modes and features soon."

The BrillDog FreeDog offering includes:
Rate quotes
Create a bill of ladings
Electronic carrier dispatch
Ship LTL nationwide using BrillDog rates
Get spot market rates
Track shipments
Basic Reports and dashboard
File claims for loss or damage
The BrillDog TMS levels the playing field for small to medium-sized shippers, providing supply chain enterprise functionality for transportation management, claims management, shipment tracking, reporting, and more. To become an early adopter of this innovative technology, sign up and start shipping today by clicking here: https://scms.brilldog.com/brilldog/.
"We are using the BrillDog TMS at Nexterus, a world-class supply chain management, and third-party logistics (3PL) services provider, for SMBs," says Ryan Polakoff, President, Nexterus. "We licensed the technology early on because we wanted to offer our clients the best cloud-based TMS on the market. Our clients enjoy increased efficiencies in transportation operations, lower transport costs, and increased customer satisfaction."
About BrillDog, Inc.
BrillDog believes simplicity and transparency are essential for every business shipper. BrillDog is an advanced, integrated solution that manages supply chain processes and data. Customers benefit from the affordable, real-time, cloud-based supply chain functionality, management, and analysis. The BrillDog technology builds on years of logistics expertise, a deep understanding of supply chain needs, and powerful new technologies.