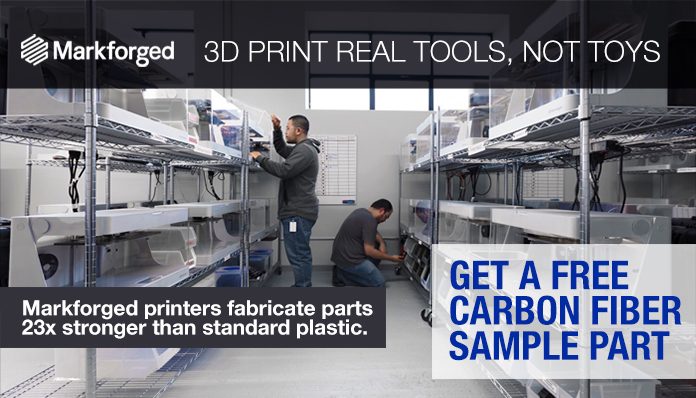 3D Print Real Tools, Not Toys
Can your 3D printer deliver parts tough enough for the factory floor? With Markforged, 3D printed composite parts are up to 23x stronger than ABS, giving you the reliability you need to keep production lines running smoothly.
Markforged printers fabricate parts 23x stronger than standard plastic.
Ideal for applications in manufacturing tooling, custom, end-use production and functional prototyping, only Markforged composite 3D printers can embed continuous reinforcing fibers – carbon, fiberglass, or Kevlar® – to print lightweight, non-marring parts with the strength of 6061 aluminum.
Get a free carbon fiber sample part
Fill out this form to receive two free Markforged sample parts—one printed with standard thermoplastic, and one reinforced with continuous carbon fiber.
To Get Your FREE Carbon Fiber Sample Part from Markforged please fill out the form below.
---
Markforged
Phone: +1 (617) 666-1935
Email: printstronger@markforged.com
Website: www.markforged.com